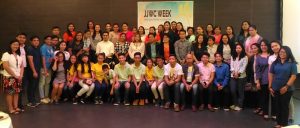 The Regional Juvenile Justice and Welfare Committee – National Capital Region (RJJWC-NCR) celebrates its 6th Juvenile Justice and Welfare Consciousness Week with a theme: "Mapagkalingang Hustisya, Ugaliin at Pagtibayin!" on November 23, 2017 at Pacific, H2O Hotel, City of Manila.
This is a week-long activity which commenced on November 19 and ended on November 25, 2017. The celebration focuses on the commemoration of the good practices on the implementation of the "Republic Act No. 9344 or the Juvenile Justice and Welfare Act of 2006".
Sixty-eight (68) participants from different Local Government Units (LGUs) in the National Capital Region, partner National Government Agencies (NGAs), other partner institutions and organizations together with the children and youth from Centers and Residential Care Facilities joined this momentous event.
The activity aims to promote and share the good practices of LGUs, partner NGAs and stakeholders in defending the rights of the children and the youth especially with the impending proposed Senate Bill on Lowering the Minimum age of Criminal Responsibility from 15 years old to 12 years old.
Hon. Emily San Gaspar-Gito, Presiding Judge of Regional Trial Court Branch 5, City of Manila imparted to the participants that it is very significant to create an enabling environment for the children to attain their fullest potential and JJWA is a means to this end. She also encouraged the children to never give up on their dreams and for those who wish to be a lawyer someday; she is one with them in attaining this dream.
Ms. Manuela M. Loza, OIC-Assistant Regional Director shared the highlights of the activity which include the presentation of the good practices of the LGUs and the launching of the Advocacy Video on the full implementation of JJWA and a music video entitled, "Isang Pagkakataon Pa" which will be disseminated to the partners.
"Ordinance No. 538 Series of 2014 or the Code of Parental Responsibility was enacted on February 6, 2014 which strengthens the implementation of JJWA in Mandaluyong City. The ordinance provides penalty to the parents who neglect their children by allowing them to be in situations which endanger their well-being and hamper their development," shared Atty. Renato B. Sta Maria, Legislative Consultant of Mandaluyong Sangguniang Panlungsod.
"This celebration is an effective way to make them listen to our voices of making the best welfare of the children and youth as a paramount priority in reviewing the existing policies," Mr. Froilan Maglaya, Social Welfare Officer V expressed on his closing remarks.  Further, he emphasized that although NCR is geographically small, the children and youth population is large which entails a bigger challenge for the RJJWC- NCR along with its partners in ensuring that the rights of the children are protected
The RJJWC NCR is a policy making body that ensures effective implementation of Juvenile Justice Welfare Act and rationalized the collective and integrated efforts of NGAs and LGUs. Regional Director Vincent Andrew Leyson also serves as the Chairperson of the RJJWC-NCR. ###