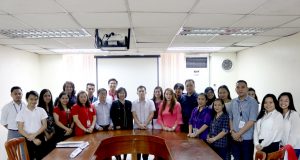 To further enhance the impact of the Pantawid Pamilya Program which aims to improve the lives and well-being of each beneficiary, the Department of Social Welfare and Development-National Capital Region (DSWD-NCR) teams up with various universities, institutions, and a private company last Thursday, January 25, 2018 at 9:00 in the morning held at the Office of the Secretary, DSWD-NCR Field Office.
Led by the Regional Director of DSWD-NCR, Mr. Vincent Andrew Leyson, together with the representatives of the Far Eastern University- Tech, Far Eastern University-Alabang, San Beda College of Manila, Manila Business College, and Home Credit Philippines, signed a partnership through a Memorandum of Agreement (MOA).
Each university and institution offered specific contributions to strengthen the Pantawid Pamilya Program. FEU-Tech and FEU-Alabang commit to provide community-based projects and services, Manila Business College will be providing Pantawid Pamilya beneficiaries the assistance for scholarship grants, San Beda College of Manila will be facilitating empowerment programs, and Home Credit Philippines will be conducting financial literacy programs.
The DSWD-NCR extends its gratitude to their new partners and ensures that the vision of the program will be realized. As Regional Director Mr. Vincent Andrew Leyson said, "We value our engagement. Your contribution will definitely be a big help to our constituents and to our Pantawid beneficiaries".