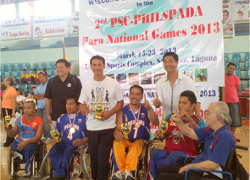 Disability did not hinder the persons with disability (PWD) clients and staff of DSWD's NVRC in winning nine (9) gold medals in the recently-concluded Philippine Paralympic National Games (PPNG) held in Sta. Cruz, Laguna Sports Complex.
For the track-and-field event, Lando Banares, a trainee with cerebral palsy and the most adored athlete garnered three (3) gold medals for 100, 200 and 1,500 meter dash run, respectively.  For javeline throw, Ryan Buenafe, a trainee with visual impairment won the gold medal, for javeline throw for visually impaired category, while Anthony Garganta, a staff with orthopaedic impairment bagged two (2) gold medals for javeline throw and long jump for orthopedically impaired category.
Meanwhile, wheelchair user staff Augusto Hernandez won two (2) gold medals in javeline and discuss throw, respectively under wheelchair user classification, while Regino Dulas, also a wheelchair user got the 9th gold medal for the team in the 48-52 kilograms power lifting event, men's division.
Aside from the gold medals, the team also brought home four (4) silver and three (3) bronze medals in different events and categories.
Ms. Edna Sacedor, head social worker of NVRC, happily shared that the NVRC team did not only bring home medals, but it also received the "Best of Five" in basketball event for wheelchair users which was awarded to Alex Teves, NVRC sports coordinator.
She added that the PPNG is being conducted yearly through the administration of the Philippine Sports Association for the Differently Abled-National Paralympic Committee of the Philippines (PHILSPADA-NPC Philippines).
Teves also said that the trainees and staff who won gold medals, especially in the single events, are officially recorded in the PHILSPADA-NPC.  This record shall be the basis in choosing athletes to participate in the international Sports competition to be held in Myanmar.
This event aims to discover the future national athletes who will participate in the international events.  For this year, there were 18 teams from all over the country who participated in the said event.