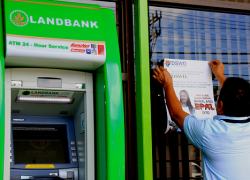 The Department of Social Welfare and Development (DSWD) intensified its 'Bawal Ang Epal Dito' Campaign in partnership with Land Bank of the Philippines (LBP).
Bawal Ang Epal Dito campaign materials are now posted on LBP branches in the National Capital Region, near their Automated Teller Machines (ATMs) where beneficiaries withdraw their cash grants through cash card.
DSWD-NCR Regional Director Ma. Alicia S. Bonoan said that this endeavor of the Department aims to protect the beneficiaries of Pantawid Pamilyang Pilipino Program from partisan politics especially during election campaign period.
Bonoan emphasized that only DSWD Central and Field Offices have the authority to delist beneficiaries from the program if they do not comply with the conditionalites, and that this partnership with LBP will inform the beneficiaries and other publics about this message.
"Since one of the target audiences of Bawal Ang Epal Dito campaign are the beneficiaries, ATMs serve as a strategic area that enables the message of the campaign to reach them. We are very glad that LBP gave solid support in this joint effort," Bonoan disclosed.