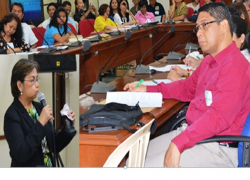 The Department of Social Welfare and Development in the National Capital Region (DSWD-NCR) recently met the representatives of Non-Government Organizations (NGOs) who are members of the Area-Based Standards Network (ABSNET)-NCR cluster, in a general assembly held at the Philippine Information Agency.
The General Assembly was organized to strengthen Private-Public Partnership in delivering social protection programs to the poor and to update the DSWD partners about the current programs and policies of the Department.
DSWD-NCR Regional Director Ma. Alicia S. Bonoan, in her message highlighted the contributions of ABSNET in monitoring NGOs who operate without license and in assisting them to be registered and licensed with the DSWD.
"We can't do this alone.  Your presence here shows your commitment to be our partners in the implementation of programs for the poor," said Director Bonoan.
ABSNET started in 2002 and proved to be an effective strategy for participative and collaborative endeavours among Social Welfare and Development Agencies (SWDAs) and Local Government Units (LGUs).
Bonoan said that the functions of ABSNET are not only focused in promoting standards setting but extended by engaging its services as "Bantay, Kaagapay, Gabay, and Tulay," in the implementation of
DSWD core social protection programs, such as the Pantawid Pamilyang Pilipino Program.
This general assembly also served as venue for the ABSNET members to elect the first set of officers of ABSNET-NCR Federation.  The elected officers will represent NCR to the National ABSNET
Federation who will provide support on social legislations, programs and activities that will benefit all SWDAs and their clients.
"We are looking forward to our continuing partnership and let us continue to communicate, coordinate and collaborate with each other as we continue to serve the disadvantaged sectors," Bonoan concluded.