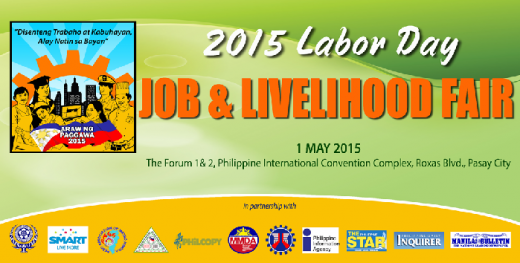 The First of May marks the celebration of the Labor Day in the Philippines to pay tribute to the Philippine workforce who tirelessly render time and services for the betterment of our country. Some Pantawid Pamilya beneficiaries from several cities in Metro Manila participated in the Labor Day job and livelihood fair held recently at the Philippine International Convention Center (PICC) in Pasay City.
The event carried the theme "Disenteng Trabaho at Kabuhayan, Alay natin sa Bayan" and was spearheaded by the Department of Labor and Employment – National Capital Region (DOLE-NCR) in partnership with the Philippine Overseas Employment Administration (POEA).
According to DSWD-NCR Regional Director Ma. Alicia S. Bonoan, the said job fair "fosters convergence amongst partner government agencies in addressing the prevailing issue of unemployment." Furthermore, "the visibility of Pantawid Pamilya beneficiaries in jobs fair such as this means that they are decisive to improve their level of well-being whenever the opportunity arises." Bonoan said. To provide the utmost service, Pantawid Pamilya beneficiaries were given a courtesy lane to expedite the hiring process.
The event was simultaneously happening in several locations in Metro Manila. A total of 175 beneficiaries from ten (10) cities in Metro Manila were present during the jobs fair at the PICC, where 109 job applicants from Pasay City were present. During the event at the PICC, three (3) of the Pantawid Pamilya job applicants were hired on the spot. Two (2) from Caloocan were hired as promodizer at the Bioessence Skin Slimming and Spa, while one (1) applicant from Pasay was hired as a janitress by Globalink Employment Services Co.
Some 106 companies both local and foreign participated in the said event. One relevant feature of the jobs fair is the installation of livelihood services for returning Overseas Filipino Workers (OFWs) who would want to enhance their entrepreneurial skills and pursue a business of their own. Services include livelihood counseling, skills demonstration for baristas, masseurs and hair cutters, among others.
Participating national government agencies (NGAs) put-up a "one-stop shop" to provide basic papers for aspiring job applicants lacking documentary requirements such as NBI clearance from the National Bureau of Investigation, birth certificate courtesy of the Philippine Statistics Authority (PSA), issuance of Tax Identification Numbers (TINs) by the Bureau of Internal Revenue (BIR), among others. ### (FO – NCR, Social Marketing Office. 04 May 2015)