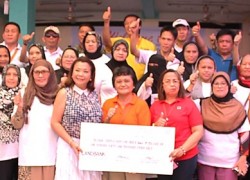 The Department of Social Welfare and Development – National Capital Region (DSWD-NCR) awards livelihood assistance to Islamic Center Brgy. 648 SEA-K Association amounting to P151,000.00 during the second leg of medical mission cum service caravan in the area on May 31, 2015.
DSWD-NCR Regional Director Ma. Alicia S. Bonoan emphasized that the said amount will be the capital seed for 20 households in putting up micro enterprise business as intervention in the community under the Department's Sustainable Livelihood Program (SLP).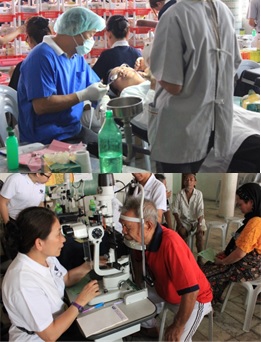 Held in partnership with Tzu Chi Foundation, LGU, BLGU, Office of District VI Cong. Sandy Ocampo, Armed Forces Philippines (AFP), National Commission on Muslim Filipinos (NCMF), and Ricky Reyes International School for haircutting, the said activity has provided services to 1114 residents of barangays 647 and 648, Manila City.
Courtesy of Tzu Chi foundation, medical services in ophthalmology including cataract  operation, pterygium excision, consultation, provision of reading glasses, medicines were availed by 279 residents in the area.
Meanwhile, 525 residents have availed the dental, prescription and provision of general medicine, pediatrics, operation for minor surgery, major surgery consultation, dermatology and pain management which were attended by 183 staff and volunteers of the foundation.
Further, the local government unit through their Manila Department of Social Welfare (MSW) and its Local Civil Registrar (LCR), offered and provided the issuance of Identification Cards for senior citizens, person with disabilities, solo parents and orange card (the LGU's-honored health card).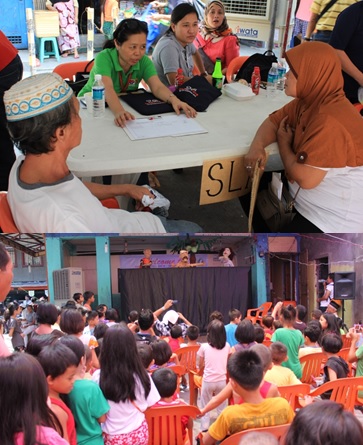 On the other hand, Manila's Public Employment Service Office (PESO) solicited bio data from the residents of the community to access them in job opportunities based on their respective skills and educational attainment.
The other services during the activity included the DSWD's orientation on SLP, Listahanan and Social Pension, NCMF's marriage and legal counselling, free haircut by the trainers of Ricky Reyes International School for Haircutting.
Also, skills demonstration on fabric conditioner and perfume making and puppet show were conducted through the efforts of the Office of Cong. Ocampo.
This second leg of the medical mission cum service caravan was held to serve those who were not able to avail the services during its first conduct on April 26, 2015.
The activity is part of the quick response of the government on the identified needs of the community based on the Socio-Economic and Health Assistance assessment conducted by NCMF in Brgy. 648, Manila on March 2015 wherein the community was found to be vulnerable and underserved with 88% of the 1, 052 respondents suffering from extreme poverty. ###