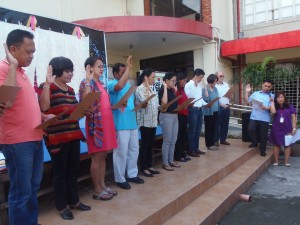 The newly elected officers of the Regional Area-Based Standards Network Federation (RAF) in the National Capital Region took an oath as partners of the Department of Social Welfare and Development towards the effective and efficient delivery of social services to the disadvantaged individuals, families and communities, held during flag ceremony of FO-NCR on February 9, 2016.
The Area-Based Standards Network (ABS-NET) comprised of Non-Government Organizations (NGOs) was organized as one of DSWD's partners and networks in the delivery of social services to the needy constituents. It also helps other NGOs in facilitating the registration, licensing and subsequent accreditation of their programs and services with the DSWD. This requirement seeks to ensure that these NGOs operate within the standards as set and regulated by the Department for all social welfare and development (SWD) agencies
The following are the newly elected officers of RAF:
Chairperson – Luis Ortiz, Executive Director, Friendship Home of Father Luis Amigo Inc.,
Vice Chairperson – Lilia Orioste, Field Director, Children International Inc (Quezon City)
Secretary – Elder Arrizabal, Program Head, ADD Foundation International Inc.
Sectoral Representatives
Children
Mely Reluya – Executive Director, White Cross Inc
Rev. Ruel Diagracia – Executive Director, Alap sa Bata ng mga Guro-Kalinga Phils., Inc
Youth
Linda Perez – Executive Director, Open Heart Foundation Worlwide Inc
Father Marciano Evangelista – President and Project Director, Tuloy sa Don Bosco Foundation Inc.
Families and Communities
George Shields – National Director, Presiding Elder of Christian Light Foundation Inc.,
Naomi David – President/ International Coordinator, CFC – Education Foundation Inc.
Women
Marilyn Torrevilos- President, Women's Action for Integrity and Success, Inc (WAIS)
Carmelita Nugui – Executive Director, Development Action for Women Network Inc.,
Persons with Disabilities
Lily Tanco – Presidents/ Founder, CereCare Foundation Inc.
Older Person
Rizaldy Daen – Social Services Head, Hospicio De San Jose
Bro. Abinas Min – Assistant Regional Servant – The Regional Servant of the Missionary Brothers of Charity
On this, the Department continuously recognizes the vital role of its partners in governance, particularly those of the NGOs, the Local Government Units (LGUs), Faith-Based Organizations, and People's Organizations (POs), among others. DSWD also incessantly exerts efforts at enhancing its partnership and collaboration with various intermediaries and stakeholders.###  (FO-NCR, Social Marketing Office)