To uphold the best interest of children who are neglected, abandoned and surrendered, the Department of Social Welfare and Development – National Capital Region (DSWD-NCR) continuously encourages the public to legally adopt a child.
"Legal adoption is a way to ensure that the rights and security of adopted children are same with that of biological child. This prevents the child from being trafficked that is happening by direct placement which involves birth certificate simulation," DSWD-NCR Regional Director Vincent Andrew T. Leyson said.
Children who are already declared as legally available for adoption can be matched to the Prospective Adoptive Parents (PAPs) thru the matching conference being conducted by the Regional Child Welfare Specialist Group (RCWSG). Thereafter, the Pre-Adoption Placement Authority (PAPA) and Affidavit of Consent to Adopt (ACA) will be issued by DSWD-NCR to the PAPs. Placement of the child to the PAPs will then takes place upon issuance of the said two (2) documents.
The prospective adoptive parent/s must possess the following qualifications: Filipino citizen of legal age; at least 16 years older than the person to be adopted (adopter may be related within the fourth degree of consanguinity or non-relative of the adoptee); has good moral character and has not been convicted of any crime involving moral turpitude; in a good status to  support and educate the adoptee; and must be emotionally and psychologically capable of caring for his/her legitimate and illegitimate children and the child to be adopted; and undergone the pre-adoption services.
Alien citizens possessing the above-stated qualifications may also adopt a child from the Philippines provided his/her country has a diplomatic relation with the Republic of the Philippines; resident of the Philippines for at least three (3) continuous years prior to the filing of the application for adoption and maintain such residency until the adoption decree is entered; he/she has legal capacity to adopt; and his/her government allows the adoptee to enter their country.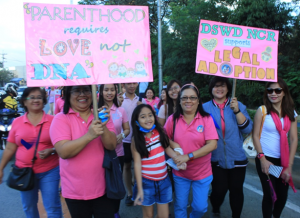 As part of the advocacy to the public on local adoption, a walk for legal adoption was recently conducted at QC Memorial Circle which was participated by the National Government Agencies (NGAs) and members of the Association of Child Caring Agencies of the Philippines (ACCAP).
Said activity is also in line with this year's adoption consciousness celebration which carries the theme: "Pagmamahal Palaganapin, Legal na Pag-aampon Ating Gawin! (Spread Unconditional Love through Legal Adoption)."
Adoption help desk were likewi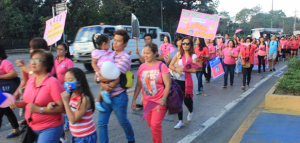 se installed at Regional Trial Court (RTC) in Paranaque on February 13, 2017 and at Department of Interior and Local Government (DILG) Main Office Ground Floor on February 17, 2017, at SM Mall of Asia, SM Megamall, SM North EDSA, SM Manila, SM San Mateo, SM Fairview and SM Marikina on February 18 and 19, 2017, Department of Health on February 21, 2017 and at Department of Justice on fecbruary 22, 2017.
In 2016, DSWD-NCR has facilitated the issuance of Certificate Declaring the Child as Legally Available for Adoption (CDCLAA) to 136 abandoned/ foundling children and 90 surrendered children.
A total of 89 cases for local matching were also facilitated by the Field Office while 153 children were provided with regional clearance for the inter-country adoption.###