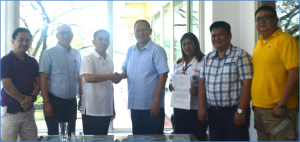 For the effective and efficient conduct of disaster relief operations in Marikina City, the Department of Social Welfare and Development – National Capital Region (DSWD-NCR) entered a partnership with the said LGU through the signing of Memorandum of Agreement today.
"This partnership will significantly help in times of disaster relief operations since we no longer have to transport the goods in Marikina during the onslaught of calamities especially when the roads are no longer passable, "Director Vincent Andrew T. Leyson said.
As stipulated in the signed MOA, Marikina LGU shall provide a space for the prepositioning of relief goods which shall also serve as a repacking hub in the occurrence of the "Big One" or the 7.2 magnitude earthquake.
Maximum of 5,000 packed relief goods are planned to be prepositioned within the LGU's City Social Welfare Office where electricity and water to be used in the location shall be shouldered by Marikina City.
Mayor Marcelino R. Teodoro of Marikina City is the first local chief executive to sign in this agreement while ongoing consultation and coordination with other LGUs is being processed.
This initiative is among the tasks of the Department pursuant to the directive of the Metro Manila Disaster Risk Reduction Management Council (MMDRRMC) for the preparation of possible 7.2 magnitude earthquake in Metro Manila as per study conducted by JICA and PHILVOLCS.
Meanwhile, DSWD-NCR continuously aims for a more efficient disaster preparedness system which is responsive to the immediate needs of disaster victims thus, partnership with LGUs, NGOs and CSOs in this endeavor is being explored.###