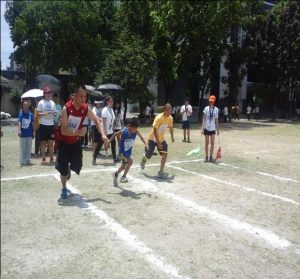 Held at University of Santo Tomas' football field on April 7, 2017, residents of Elsie Gaches Village participated in UST – Special Olympics Unity Games 2017 which was organized by Guild of Thomasian Speducators (GuTS) together with the Institute of Physical Education and Athletic (IPEA), College of Education and Special Olympics Philippines wherein 14 medals were bagged by the residents.
EGV residents brought home three (3) gold medals, six (6) silver, five (5) bronze and two (2) ribbons during this one-day sports tournament that aims to promote camaraderie and sportsmanship among the participants through playing unified sports and advocate fair treatment, fight stigma and uphold the right of a person with Intellectual Disability.
Ten (10) EGV residents namely Catherine Uy, Elinita Orbita, Joan Balidong, Rene Joyce Lopez, Jocelyn Buzar, Eli Sandoval, Boogie Sandoval, Benjie Fabella, Israel Flores, and Irene Aysa represent the center in the competition.
UST Special Olympics Unity Games 2017 began with a formal opening ceremony through parade of athletes and the lightning of torch that signaled the start of the games. Four (4) games were conducted simultaneously including 50 and 100 meter run, basketball, soccer and bocce. All games and activities are tailored to fit the limitations of each athlete.
The residents acquired new knowledge, met new friends, and demonstrated camaraderie in playing Unified Sports which likewise enhances their self-confidence, determination and social participation.###