The Department of Social Welfare and Development – National Capital Region celebrates 67th Founding Anniversary of DSWD today, February 28, 2018 at the Field Office Grounds.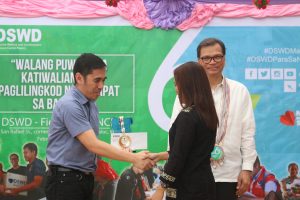 Regional Director Vincent Andrew T. Leyson welcomes the retirees and loyalty awardees together with their families in this momentous event as their untiring efforts and passion to serve our dear clients are recognized. He reminisced the inevitable challenges attached to the job of the direct service workers.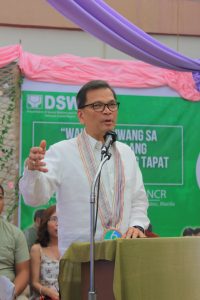 The welcome remarks was followed by the inspirational message of the guest of honor, Officer In Charge and Undersecretary Emmanuel A. Leyco. He emphasizes the significance of regular staff who will carry out social protection programs hence, a need to lobby for the regularization of Contract of Service and Job Order staff. He also congratulated the awardees and retirees who serve as inspiration to continue doing noble work in the Department.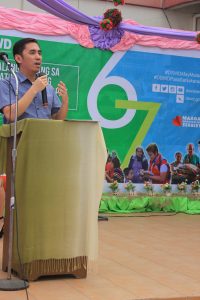 Intermission numbers were showcased by Las Guitaras Trio. Their music serenaded the awardees, retirees, officials and DSWD NCR staff who participated in the activity. While the program is on-going, there are also simultaneous alternative education sessions being conducted in different conference rooms in the Field Office with the following topics; "DSWD NCR Opening Its Doors for a Wider Gender Spectrum: LGBTQIA+Staff", "Internally Displaced Person: A Kaleidoscopic View", and "Significance of Islam Beliefs to Work Ethics".
DSWD NCR also recognizes Muntinlupa City and Municipality of Pateros as CY 2016 Presidential Awardees for Child-Friendly Municipalities and Cities in the National Capital Region.
The loyalty and retiree awarding ceremonies paved way to give honor to 28 awardees for rendering 10 years in service, 16 awardees for 15 years in service, 17 awardees for 20 years in service, one (1) awardee for 25 years in service, 12 awardees for 30 years in service, nine (9) awardees for 35 years in service and 13 retired awardees.
Ms. Evangelina DG Lawas, former Center Head of Sanctuary Center shared her invaluable experiences with DSWD NCR as she rendered service for 38 years. She expressed her happiness that most of the staff who received loyalty awards became her staff.
"I have left good legacies in the mind and heart of the clients, the staff and partner-agencies." said Lawas.
On the other hand, Mr. Reynaldo Santos, former Manpower Development Officer I of the Rehabilitation Sheltered Workshop shared stories of good and challenging moments in the Center.
The program ends with the closing remarks delivered by Mr. Joel Cam, Pantawid Pamilyang Pilipino Program Regional Program Coordinator and Anniversary Chairperson. He expressed his gratitude to the members of the Committee as well as the staff who made the event successful.
This annual activity is a celebration of timeless and burning passion to deliver Maagap at Mapagkalingang Serbisyo sa mamamayang Pilipino.
###