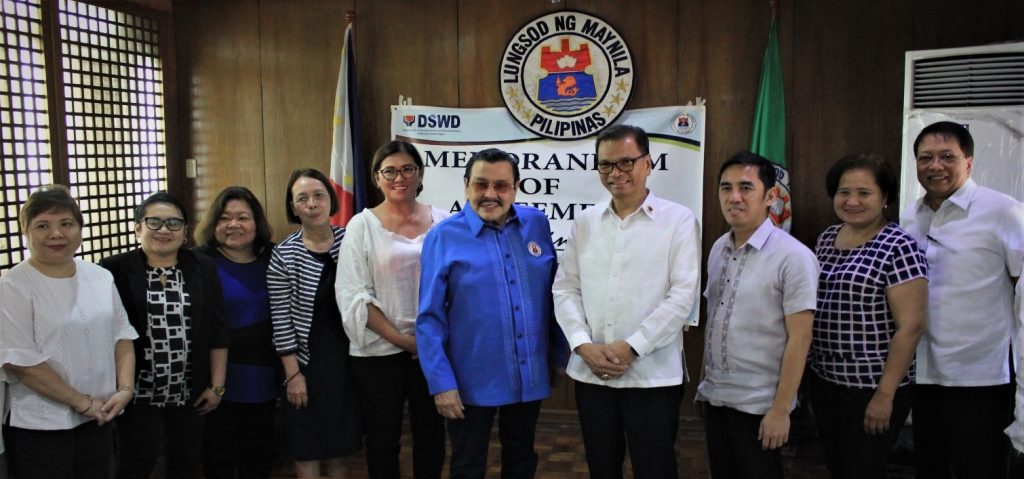 OIC Secretary Emmanuel A. Leyco, DSWD- NCR Regional Director Mr. Vincent Andrew T. Leyson and Ms. Marlene Guzman, Officer in Charge of Emergency Assistance Section – Crisis Intervention gladly welcome six (6) new partner hospitals through signing the Memorandum of Agreement for the "Lingap at Gabay Para sa May Sakit (LinGaP sa MaSa) with the City of Manila Honorable Mayor Joseph "ERAP" Ejercito Estrada last March 5, 2018 held at Manila City Hall, Gat Antonio Hall.
The signing of the agreement was participated by the six hospitals that include Ospital ng Maynila, Ospital ng Sta. Ana, Ospital ng Tondo, Ospital ng Sampaloc, Jose Justice Abad General Santos and Gat Andres Bonifacio Memorial Medical Center.
The primary goal of LinGaP sa MaSa and the agreement between the hospitals is to provide free medicines, prosthetics, assistive devices, laboratory procedures and other medical supplies to indigent and vulnerable constituents living within Manila area, whereas the hospitals will be responsible for the assessment, diagnostics and other therapeutic requirements of all patients seeking for assistance.  On the other hand, DSWD NCR shall be responsible on the assessment and facilitation of the issuance of Guarantee Letters (GLs). The duration of the said agreement shall be one (1) year commencing from its effectivity and renewable upon the consensual agreement of the parties.
OIC Secretary Leyco, DSWD-NCR Regional Director Leyson and Honorable Mayor Estrada committed to give their full and continuous support in extending help and provision of assistance to the poor and vulnerable sectors in the City of Manila.
LinGaP sa MaSa will cover the entire National Capital Region. Said program continuously expands through forging MOAs with other partner-hospitals from 16 cities and one municipality in Metro Manila.
###