"Ito na ang li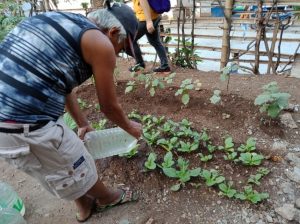 bangan namin, hindi na kami tatambay-tambay,"shared by one of the members of Gemini Group. Gemini Group is composed of Pantawid Pamilya partner members that transformed the vacant lot located at Barangay Sta. Lucia, Quezon City into a productive source of fresh produce. This initiative also contributed to the community's orderliness and cleanliness.
It was agreed that the land will be devoted mainly for planting fruits and vegetables. The produce will not only be used for consumption but also for market needs helping them cut their daily expenses. Seedlings were also provided by the barangay. Moreover, it will address malnutrition among poor families
Cooperation and camaraderie among the members along with the support coming from the barangay officials were vital factors that made this initiative possible.
Gemini is the most active group among the three (3) remaining groups on Barangay Sta. Lucia. They set tasking where all members could actively participate in monitoring and developing of the garden. They consumed and sometimes sell their harvest to the local community members or sell it to the nearest market. They spend their earnings in buying new materials which they could use on their gardening like water containers. They also do contribution whenever they thought that a certain gardening tool is needed.
There are a lot of challenges they encountered before and during their gardening. When asked about the challenges they have encountered, they said, "Madumi, makalat [yung lugar], naging mahirap yung pagliliis namin, yung pagaakyat ng tubig naging mahirap din dahil mataas itong garden, madami din nadisgrasya sa pagpuputol ng puno pero masaya."
They gladly sh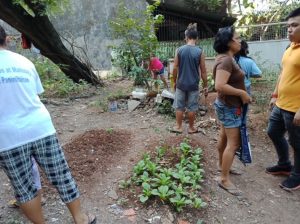 ared how gardening helps them. According to them, sometimes they no longer buy vegetables and instead harvest to their garden. This serves as leisure activity for them and they got their children involved as well. At present, they have seven (7) edible plants on their garden, they harvest every week and they are also planning to add more edible plants like bitter gourd (Ampalaya) and sponge gourd (Patola). They are hoping to develop their garden and look forward for the participation of other groups in the area.