Is it possible to grow vegetables in a massive area under the scorching heat of the sun, with a poor water system? 2013 was a year of new opportunities and challenges to our Pantawid Pamilya farmers. An opportunity for them to strive harder, innovate and to discover, learn and develop their skills i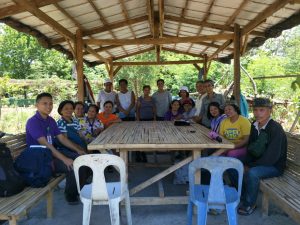 n farming.  In partnership with the Elsie Gaches Village, the huge area that they had, has not only been a home for the marginalized children in the Philippines but as well as to our Pantawid Pamilya farmers in Alabang. During the Cash for Work in 2013, our Pantawid Pamilya farmers seized the opportunity not only to gain extra income but also to make a difference in their community. Using their bare hands they remove all the large weeds from the barren land.  The once bushy area in the village was transformed hand in hand by our Pantawid Pamilya farmers into a land where seeds of dreams are planted. With the help of the City Link, they were able to cultured the area and for 5 years now and they have been trying their best to sustain what they had started.
Coming from the different walks of life, they had come together to work on something that they believed would give a positive impact not just for themselves and their family but also to their community. They named their group 4K or "Kapaligiran, Kalusugan, Kabuhayan para sa  Kaunlaran". From their name itself, they aim to develop and make the world a better place to live in, using their skills in farming. By the year 2016, they decided to elect officers among them to create a better management. Certainly, a system was created within the group. Although the water system was quite a challenge, it did not stop them. As early as 4 o'clock in the morning, our Pantawid Pamilya farmers wake up early just to water their plants since at 8 o'clock in the morning the water will be turned off and be back by 2 o'clock in the afternoon. They pay the water for 45 php per month and to augment this need they decided to contribute 5 php per week and also as a way for them to save. In partnership with the Department of Agriculture they were grateful to receive seeds and seedlings like eggplant, okra, tomatoes, chili, legumes, and pechay. They also planted camote tops, saluyot, lemon grass, sweet potatoes, papaya, malunggay, cassava, among others. Moreover, they have also been active participants to the different trainings conducted by the SM Foundation and Department of Agriculture that led them to become knowledgeable in farming. They also receive containers and hose from the Local Government Unit which was very helpful for them in watering their plants.
The garden was their second home, it provided them their needs as well as a family whom they can share their sorrows and joy in life. Aside from the positive bond that they had, unity in the garden can be discerned. They do not have specific plot for a specific group but everyone owns everything. One of the farmers said, "Tulong tulong kami sa pagpapalago ng mga pananim".  Aside from consuming their produce, which truly promotes nutrient sufficiency and food security in the family, they also peddle it in the market which adds to their family's income.
Over the years, the garden helped them developed an attitude of camaraderie and sense of genuine care and joy among them. To this day, they continue to farm with the hope and dreams that one day they will have a better water system that would lead them to a more bountiful produce. Nonetheless, our Pantawid Pamilya famers are determined that brighter days are ahead of them and that they can boldly say that, "Yes! Planting in a huge area under the heat of the sun with poor water system is possible with unity, positive mindset and determined attitude!"