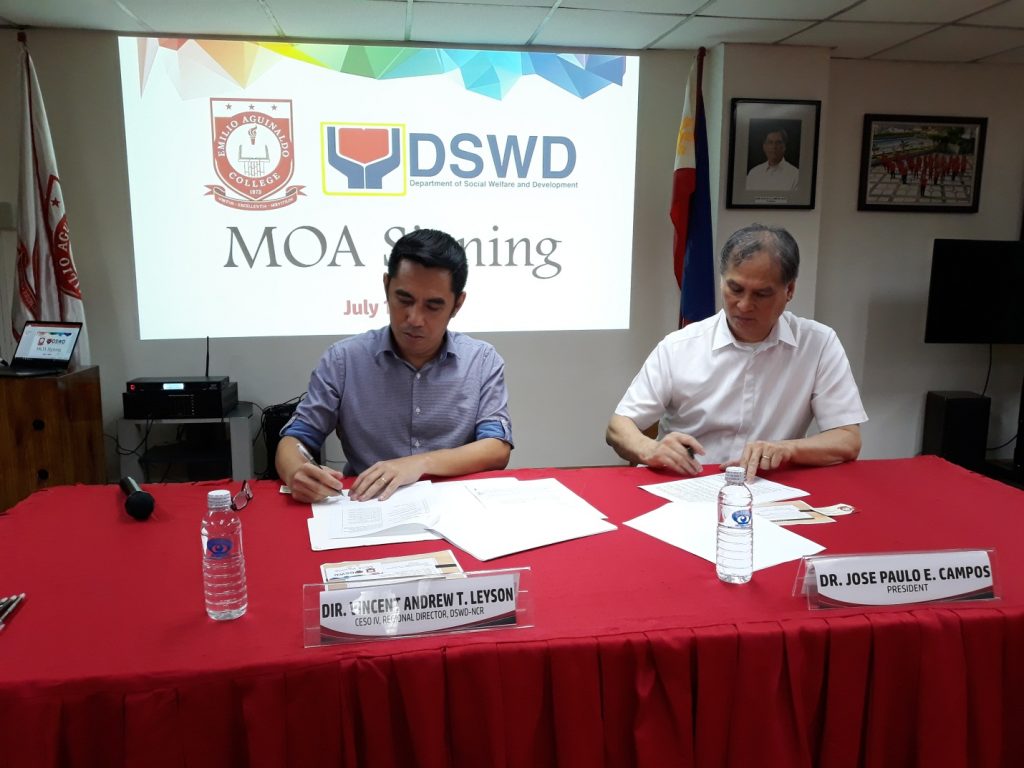 The Department of Social Welfare and Development – National Capital Region (DSWD-NCR) signed a Memorandum of Agreement with the Emilio Aguinaldo College (EAC), formalizing partnership for the use of Listahanan 2 Database to identify students who belong to the poor households and who may be eligible for the Tertiary Education Subsidy held on July 11, 2018 at EAC Boardroom.
"Being the first school which partnered with the Field Office, the establishment of the partnership is considered a major breakthrough," Regional Director Vincent Andrew T. Leyson said.
On the other hand, EAC President Dr. Jose Paulo E. Campos gratefully stated that, "Education is a very important component for the children's future especially for the least advantaged. With the help of DSWD NCR, we can identify students who are really in need of support to continue their studies which will be their gateway to success to uplift the conditions of their families."
Further, Regional Director Leyson assured that the information in the database is complete and accurate which will be of great help to EAC to identify deserving students for scholarship.
DSWD NCR through the National Household Targeting Unit continuously creates data sharing partnership with different institutions in order for the identified poor households to have opportunities to access social protection programs and services from private and public entities.
Listahanan is an information management system that identifies who and where the poor are in the country. ###