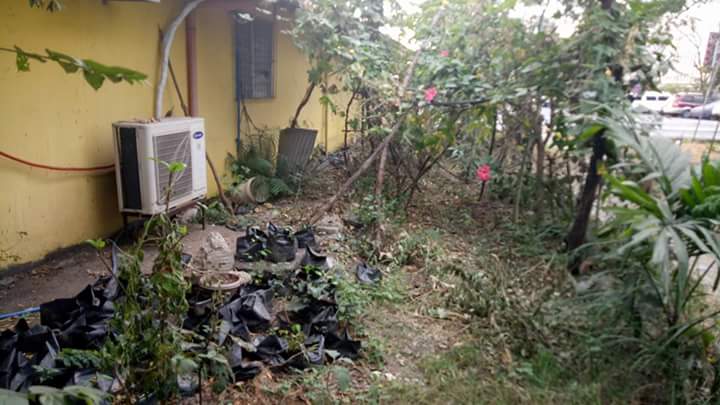 The 'gulayan sa pinakamatabang lupa sa Caloocan', has always been the name used by everyone in the area to describe Gulayan sa Barangay of Pantawid Pamilya members of Barangay 118 in Caloocan City. The gardening initiative was born out of the necessity for healthy and accessible fresh produce amid the high cost of food in the National Capital Region. Results of the Social Welfare and Development Indicator (SWDI) conducted to assess the level of well-being of household members in 2015-2016 showed that Barangay 118 has a total of 50 household that needs to be provided with health and nutrition services.
In 2017, one of the thrust and priorities Pantawid Pamilyang Pilipino Program was to encourage members to engage in bio-intensive gardening or Gulayan sa Barangay, which aimed to address the malnutrition and food insecurity in Pantawid Pamilya areas and to promote an alternative source of income. It also sought to instil the practice community organization among Pantawid Pamilya members.
On September 27, 2017, Food Always in the Home (FAITH) Gardening was initially launched in Barangay 118 through the monthly Family Development Session under the program. As a result of the activity, Pantawid Pamilya members were able to choose the most feasible way to engage in gardening that is also suited to their area.
Since Caloocan City is filled with commercial and industrial structures, vertical gardening in plastic bottles was the preferred gardening method among Pantawid Pamilya members due to unavailability of vacant garden lots. However, over the time, vertical gardening started becoming unfeasible due to the need for a bigger area to increase the production. Struggling to find a solution with the problem, Pantawid Pamilya members of Barangay 118 worked together to look for vacant areas that they can work with.
Some school facilities were able to lend their vacant grounds to the gardeners. However, due to the similarity of the Gulayan sa Barangay initiative with the programs of the Department of Education and Local Government Unit's launched under their nutrition and health advocacies, members started to feel the burden of conflict between Pantawid Pamilya's objectives and DepEd and LGU's programs that cause a decline in attendance. Some of the members even returned to their vertical gardening.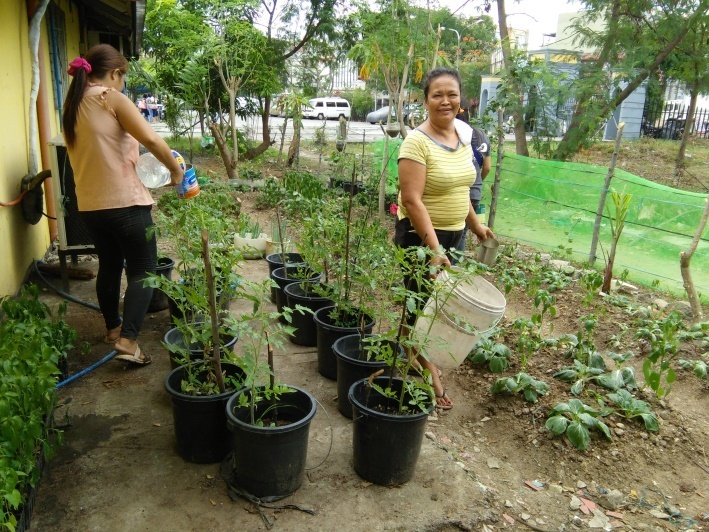 Despite the challenges, Barangay 118 Pantawid Pamilya members were determined not to give up on their Gulayan. Their steadfast commitment to the initiative led to a partnership with Caritas-Caloocan Chapter on February 2018. The said Non-Government Organization (NGO) is located inside La Loma Cemetery, where an area of 15 meters long and three meters wide was given to Pantawid Pamilya members of Barangay 118. Their hope of a successful garden was revived.
With the issue of finding a space for the Gulayan sa Barangay resolved, members then focused on finding crops and seeds to plant. The City Link of the area requested seedlings from the Department of Environment and Natural Resources. On April 3, 2018, DENR was able to deliver a total of 49 trays of seedlings such as pechay, tomato, bell pepper, and hot pepper.
There are 50 active Pantawid Pamilya members in Barangay 118 that are included in the subsistent and survival level of well-being of SWDI Nutritional Indicator. However, due to the positive feedback from the Gulayan initiative, other Pantawid Pamilya members were encouraged to participate in urban gardening.
Building a relationship among community members is quite difficult in Barangay 118 given that it is the biggest one among other neighbouring barangays in Caloocan. But according to Ms. Marissa-Barrantes, a Pantawid Pamilya member, their gardening activity helped them to build a good relationship. "Noong una po ay hindi talaga kami magkakakilala, dahil po sa napakalaking area ng barangay namin. Sa pamamagitan po ng Gulayan sa Barangay ay naging magkaibigan po kaming lahat at nagkaroon kami ng pagkakaisa." She added, "Hindi po namin akalain na pwede po talaga kaming makapag-garden sa isang napakalaking lungsod." Her testimony proves that the project had a positive effect in encouraging members to cooperate and have a good relationship with other community members.
Ms. Rowena Torreon, another member of Pantawid Pamilya who is a part of the Gulayan sa Barangay in the area, said that the communal gardening activity has helped to expand their daily routine from home chores to other productive activities. "Dati po kapag Sabado at Linggo puro gawaing-bahay lang po kami. Pero simula po ng magkaroon ng Gulayan, nandito po kami tuwing Sabado. Nagdidilig po kami at nagbubungkal ng lupa. Nakakakatulong din po ito sa aming kalusugan. Bumubuti po ang baga naming at nakakapayat pa," she said, enumerating the good impact of the Gulayan.
Ms. Marlyn Bolo, another member, added that the Gulayan sa Barangay helped them to share their hidden and/ or forgotten green thumbs. She said they discovered their talents and skills in gardening and that some husbands of the members also helped in the garden.
The Gulayan sa Barangay Project is a good initiative that promotes collaboration and participation not only among Pantawid Pamilya families but as well as other people in the community. The Gulayan serves as a venue for socialization and cultivating communal organization that led to the establishment of Saving and Internal Lending Communities (SILC) – the People's Organization that focuses on uplifting the lives of its members.Ms. Julie Bolo, the President of SILC shared that Gulayan sa Barangay is a great help for them as a community. She said that the activity has opened doors for the establishment of SILC- which is somewhat similar to SHEG- a help group of DSWD Community Organizing Social Preparation. Currently, SILC is a 3-month-old organization and have established another group headed by their New Barangay Chairman. SILC launched its first project for the Gulayan sa Barangay by placing a three-feet fence to secure the garden from loitering animals.