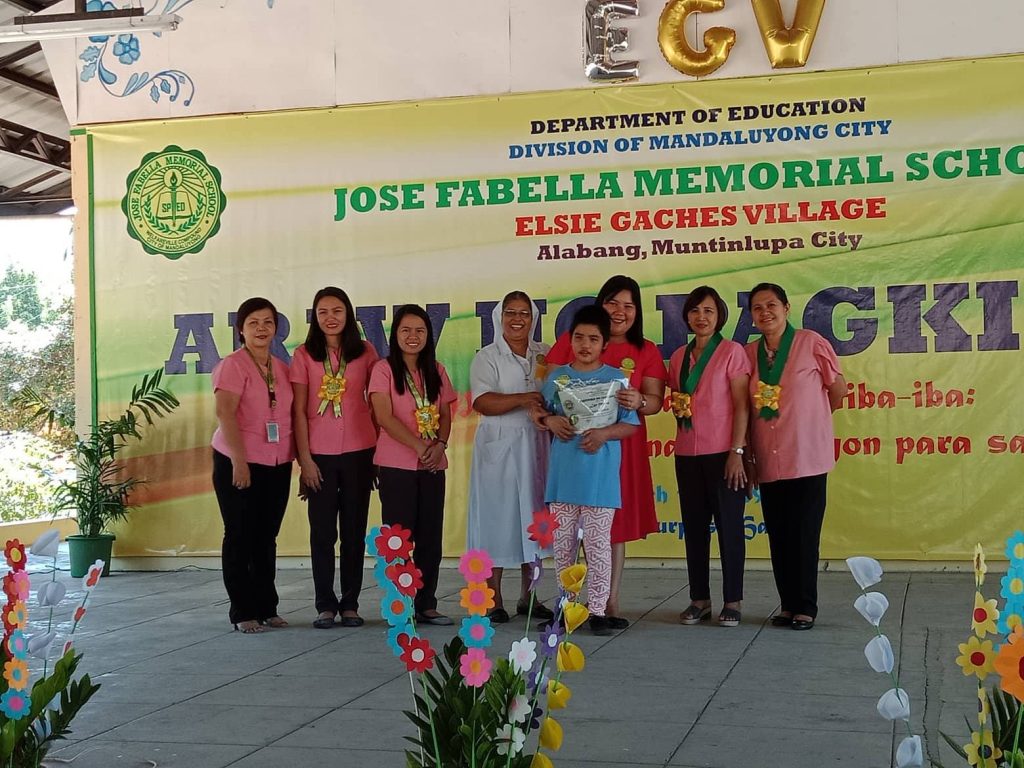 March 18, 2018 marked another milestone for the children of Elsie Gaches Village in Alabang, Muntinlupa City, as they pushed the boat out on the Recognition Day program of Jose Fabella Memorial School (JFMS). The event took place at the Multipurpose Hall at 9:00 in the morning, which marked the end of the school year 2018 – 2019 for the students of Level 1 – 3 of Prevocational Level and the Music and Arts Therapy Program (MATP).
With the theme "Pagkakaisa sa Pagkakaiba-iba: Kalidad na Edukasyon para sa Lahat ", the recognition ceremony was graced by Ms. Olivia L. Pagurayan, Special Education Principal II of JFMS Elementary Department, Mandaluyong City. Ms. Pagurayan expressed her joy for the achievements of the students of EGV as they try to patiently fulfill their dreams through Special Education despite their disabilities. She also expressed her gratitude to the social workers, houseparents, staff, Sisters of Charity of St. Anne and the administration of Elsie Gaches Village who work hand-in-hand for the children catered by the center.
The talented, diverse, and special students marched their way to the stage and received their awards and recognition with genuine joy seen on their faces. Out of 99, 15 pupils received certificates and graduated from SPED Prevocational Courses. They are the 4th batch of pupils who graduated from the school and marked the beginning of their journey for more opportunities to be productive in the center and in the society. Teachers were also recognized as they have rendered their invaluable service and contributed their treasured knowledge to their students. Likewise, thanksgiving through a song was presented by the pupils for their teachers, house parents, and EGV staff who have worked so hard to help them achieve their optimum potentials. 
Moreover, fifteen (15) residents completed their Prevocational Level through their on-the-job trainings at various units and cottages. The recognition day was attended by 99 Special Education (SPED) students, 5 SPED teachers from Jose Fabella Memorial School and St. James Parish, PTA Officers, supervisors of different units, staff and house parents of the center, and sisters of Charity of St. Anne. The program was concluded with a closing remark and thanksgiving message from Ms. Nieve F. Gentelizo, Social Welfare Officer III / Officer In-Charge.
Recognizing the hardwork and talents of the children with special needs give them more wisdom as they go on their lives and be a better person. Indeed, it was a day of celebration — a celebration of continuous efforts to help the children of Elsie Gaches Village to, despite their disabilities, show their inner strength and make sure that their abilities blossom and shine.