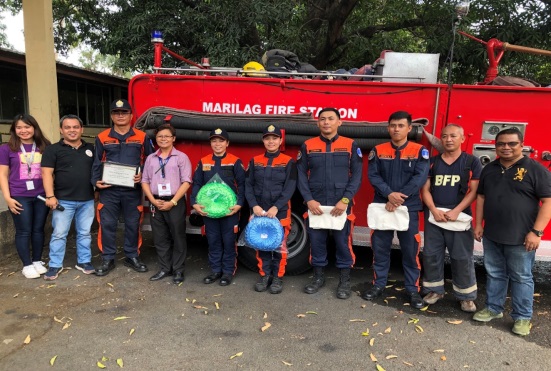 Fire incidents take an alarming increase in number during this time of the year. Identified as one of the hottest months, March is declared as the national Burn Prevention Month (commonly known as Fire Prevention Month), by virtue of Proclamation No. 360, series of 1989.
As we observe this season, the Department of Social Welfare and Development – National Capital Region (DSWD-NCR), together with its Centers and Rehabilitation Care Facilities, joins the Bureau of Fire Protection's (BFP) Fire Prevention Month with the theme, "Ligtas na Pilipinas Ating Kamtin, bawat Pamilya ay Sanayin, Kaalaman sa Sunog ay Palawakin."
DSWD-NCR's centers admit that they are vulnerable to this type of crisis. With this, the National Vocational and Rehabilitation Center (NVRC), together with the Rehabilitation Sheltered Workshop (RSW), invited BFP to conduct a fire prevention lecture and drill at Barangay Marilag, District III, Quezon City.
BFP conducted a lecture which focused on the proper fire incident management, tips on preventing fire, and the safety procedures during and after the fire incident. The discussion also includes a mini-seminar on the functions and uses of fire extinguisher, depending on the level and causes of fire. After the lecture, clients and staff of RSW and NVRC participated in the fire drill.
Mr. Jerry Brenches, Sr., Monitoring Development Officer of RSW, and Ms. Flor Calabazaron, Officer-in-Charge of NVRC, ended the program by giving recognition and token of appreciation to BFP for contributing their treasured knowledge on the lecture and their invaluable assistance to RSW and NVRC during the fire drill. ###