"Nagsimula ang aming gulayan dahil ito ang desire ng puso namin- ang magtanim. Ginagawa namin ito ng may pagkakaisa, pagmamahalan at pagtutulungan…" –Jenna A. Camara (President, Sanctuary Pantawid Urban Garden)
Establishing the Sanctuary Pantawid Urban Garden in Mandaluyong City was an arduous collective effort of the Pantawid Pamilya farmers, given the fact that establishing and maintaining an urban garden is quite a challenge in highly urbanized areas where space and source of water which are essential in farming are of major concerns. The difficulties did not stand as hindrance for the farmers in the strides they took while achieving their goal of establishing a garden. They firmly believe the law of nature that you will harvest what you planted thus, they planted their passion, dedication and camaraderie in their gulayan and now they are harvesting their success with abundance. Last year, they won as the Best Gulayan sa Barangay in the National Capital Region during The Regional Search for Best Gulayan sa Barangay 2018.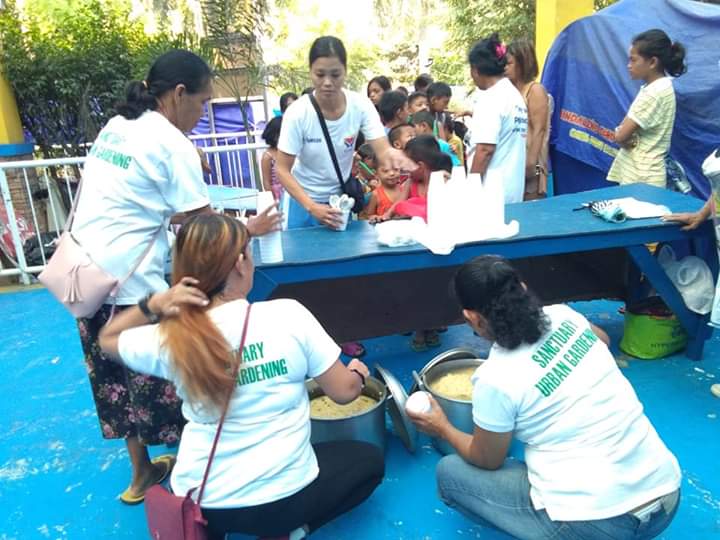 They started in 2012 by utilizing the available land in DSWD-NCR's Sanctuary Center located at Mandaluyong City due to limited space in their community for urban agriculture. They were only provided ½ hectare of land for their gulayan in the said center. The Pantawid Pamilya farmers felt the scarce supply of water in the following year, some of the plants withered especially during summer. They did not give up and as a proactive response to the matter, they carry gallons of water every day to water their plants. Their act of hard work and perseverance to sustain their gulayan, have given the LGU of Mandaluyong enough reason to reward them by installing a source of water for their urban gardening in 2016. In addition, when the Center noticed the significant change in terms of cleanliness and orderliness in their premises, they granted the expansion of their urban gardening, allowing the farmers to cover more idle land in the center which has an estimated land size of more than a hectare. This allowed them to maximize the land and plant more varieties of vegetables.
The Pantawid Pamilya farmers always believe in the magic of sharing and they think that it is the key to their success. They believe that the more they give to others, the more they will receive in abundance. Eventually, they grow individually through the spirit of sharing and now, they are applying the lessons they have learned and used their group as an instrument to affect positive change not just to their fellow Pantawid Pamilya members but the whole community. They regularly conduct feeding program every Saturday morning to different evacuation centers around Mandaluyong City. The fund they used for their initiative comes from a portion of their income in selling their harvests as well as from the donations of their friends. They cooked their harvested vegetables during the Feeding Program to serve nutritious food. They also cultivate herbal plants and provide free herbal medicines whenever someone is in need. In their account, they already provided to those indigent individuals who have Urinary Tract Infection, Cancer, Mayoma, Dengue etc. Also, they are giving a portion of their harvest once a month for the clients at the Sanctuary Center.
They have served as resource speakers during the Family Development Sessions at Barangay Zaniga, Buayang Bato, Malamig and in Addition Hills to share their good practices, techniques, strategies, experiences, and the effects of urban gardening in their lives during the celebration of 2018 Nutrition Month. It is their advocacy to establish more Gulayan sa Barangay in their locality.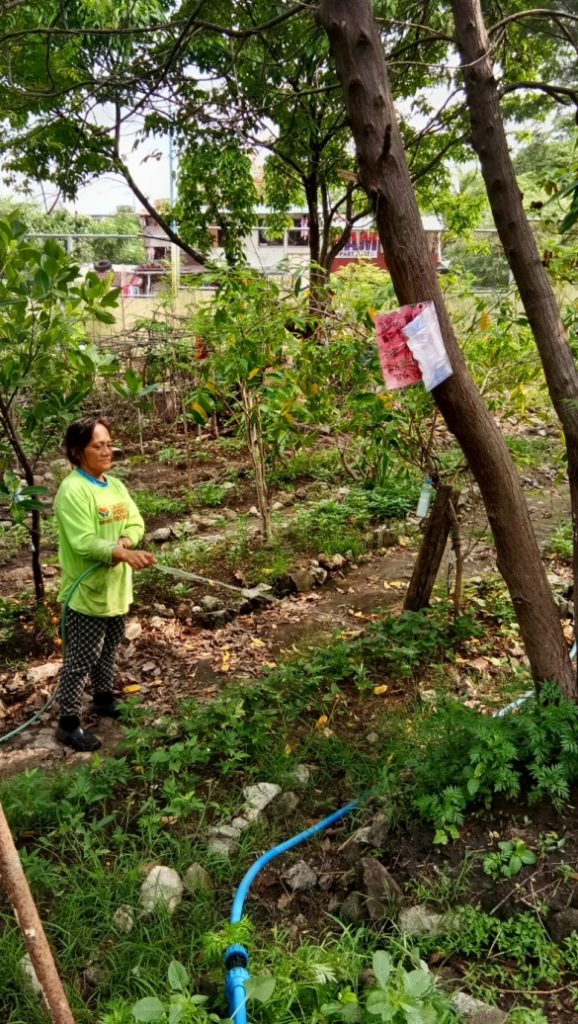 In order to sustain the group and to build the culture of sharing and caring, the members on a regular basis are having their meetings and bible studies every Saturday. They have also extended their activity to other barangays namely, Brgy. Botanical, Brgy. Panatag and Brgy. Adddition Hills Blk 36 and Blk 38.
Recently, the group received a Nipa hut from their LGU where they gather for their meetings, recreations and bible studies. They no longer need to borrow the facility of the Sanctuary Center to have their regular activities. The place also serves as receiving area for their visitors.
The once squandered idle land is now a home for nutritious vegetables. Urban gardening becomes a pleasurable activity for them as it serve not just a resting and stress relieving place, but also an entertaining place for them when they feel stressed and exhausted. The ambiance of the place provides peace of mind, it brings them closer to the nature and helps strengthen the companionship among them. ###