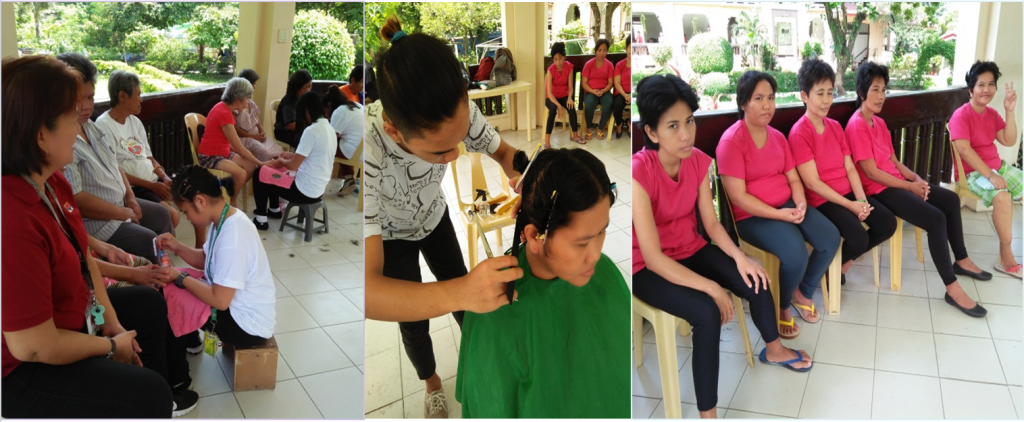 On August 16, 2019, eight (8) Hairdressing and Beauty Care trainees of Nayon ng Kabataan (NK) Training Center (NKTC) together with the three professional trainers conducted free haircut, manicure and pedicure to seventy two (72) residents of Sanctuary Center.
This good practice aims to equip the residents of NK with necessary skills in the field of beauty and cosmetology. Said activity was conducted with guidance and supervision of Nayon ng Kabataan and Sanctuary Center staff.
Nayon ng Kabataan's clients graduated on July 30, 2019 from the Skills Training courses such as Information and Communications Technology, baking, hair cutting, beauty care, and manicure and pedicure. This is part of the Helping Strategies / Interventions Program and Life Skills Service that provide opportunities for the residents to acquire basic knowledge on daily life activities that would expand their sense of responsibility towards themselves and to others. Learnings from the said training courses were then applied to provide service for the community.
Nayon ng Kabataan provides programs and psycho-social services and interventions to Children in Need of Special Protection ages seven (7) to eighteen (18) years old, while Sanctuary Center is a twenty-four (24) hour residential care facility which serves as a place of refuge and home for the abandoned, neglected, and unattached adult women with improved psycho-social disability, ages eighteen (18) and above. ###