The Japan Foundation – Manila in partnership with the University of the Philippines Film Institute (UPFI) conducted a Japanese Film Festival (JFF), popularly known as EIGASAI which was attended by the selected residents of the Reception and Study Center for Children (RSCC) on August 17, 2019 at the University of the Philippines, Diliman Quezon City.
The activity aims to let the children see a glimpse of the Japanese culture and appreciate the real cinema experience. EIGASAI continues the tradition of film screening for viewers of all ages, offers films of diverse genre and is open to public for free of charge.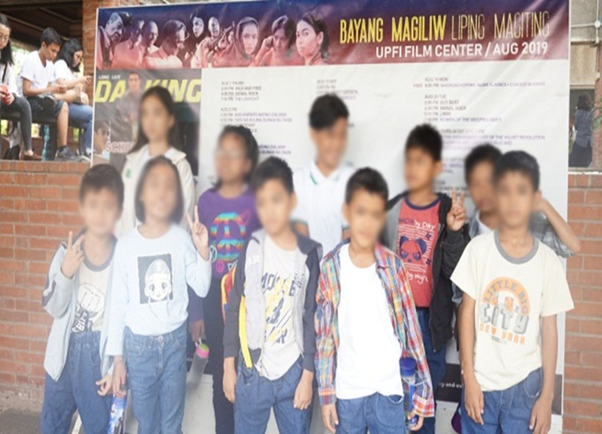 The children watched the Lu over the Wall movie, a charming film about mermaids, music, growing up, and friendship. It is about Kai, a shy high school student and his band mates who ventures into Merefolk Island where their music attracts Lu, a mermaid who has power to make people dance. The children enjoyed the film's music, attractive and colorful animation, as well as the bright and lively character of Lu with her googley eyes and seaweed hair. One of the most remarkable scene that put tears on the children's eyes was when Lu was rescued by her father. The film taught the children empathy and have a wider perspective of the outside world.
The Reception and Study Center for Children provides services for the needs of 0 to 6 year-old children who were abandoned and deprived of parental care and support through provision of temporary care, custody, and alternative family care services. ###