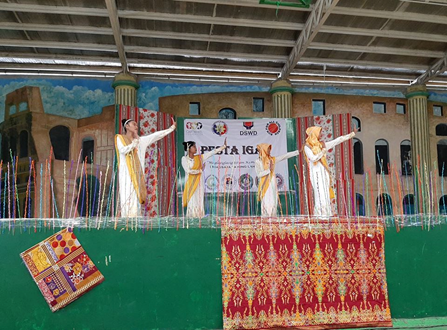 Pesta Igal, a celebration of traditional dance and music of the ethnic group Sama Bajau, was held on November 13, 2019 at Palanyag Gymnasium, Parañaque City.
Said ethnic group showcased their talents on dancing Igal-Igal and performing Kantambol. Both cultural performances, Igal-Igal is an interpretative dance done by gracefully mimicking eagle's wings flying above the sea while Kantambol is a performance done by singing while playing drums using a can.
Sama Bajaus also wore their traditional clothes – colorful sequined and beaded tanjak, accessorized with long nails, malong, and turban – for their performances for the Igal-Igal and Kantambol competition. Those with the most compelling performances and memerizing costumes won prizes.
Preserving the colorful culture of Sama Bajaus who live in Metro Manila is one of the advocacies of DSWD-NCR. The Department aims that despite being modernized, the ethnic group will still keep their rich culture through tranditional dance and music.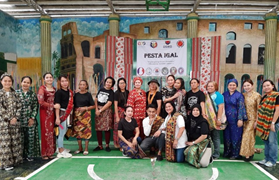 "Nakakatuwa po na kahit tayo man ay nasa Maynila, naipapakita pa rin po natin kung gaano kaganda ang inyong kultura. Dapat po ay hindi natin ito kakalimutan, hindi babalewalain, dahil kayo po ay nakakadagdag sa kagandahan ng Pilipinas." Said Ms. Ilene Lotino, head of Special Projects Section of DSWD-NCR, proponent of said activity.
This year, representatives from Parañaque City won the Igal-Igal dance for Children and Adult Categories while representatives from Manila City won the Youth Category. Representatives from Manila also won the Kantambol Children Category while representatives from Taguig City won the Youth Category.
Ms. Malou Von Arx, Executive Director of Sun For All Children, Inc. which is a non-government organization that sends children to school and Hon. Congressman Eric Olivarez of Parañaque also showed their support and graced the activity.
DSWD-NCR still accepts volunteers for the Sama Bajau Activity Center located at San Dionisio Gymnasium, Brgy. San Dionisio, Parañaque City. Interested volunteers may coordinate with DSWD-NCR Special Projects Section through telephone number 734-8623. ###