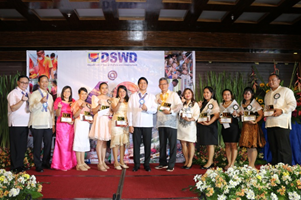 MANILA – Loyalty awardees and retirees of the Department of Social Welfare and Development-National Capital Region (DSWD-NCR) received commendations during Field Office (FO) NCR's celebration of DSWD's 69th Anniversary at Swiss-Belhotel Blulane, Manila on February 26, 2020.
Thirteen (13) awardees for 10 years in service, fifteen (15) awardees for 15 years, sixteen (16) for 20 years, four (4) for 25 years, three (3) awardees for 30 years, two (2) for 35 years, and one (1) each for the 40 and 45 years in service were granted plaques of appreciation during the Loyalty Awards Rites.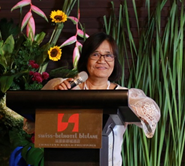 Ms. Luz Hojilla, Administrative Officer V, retiring as the head of the Records and Archives Management Section, shared her secret to a long-lasting, relentless public service.
"Always offer them to God — your prayers, words, choices, and sufferings. Para hindi kayo mapagod (magserbisyo)," Ms. Hojilla, the sole awardee under the 40 years in service category, expressed.
Honorable Secretary Rolando Joselito D. Bautista, DSWD Undersecretary Danilo G. Pamonag, DSWD-NCR Regional Director Vicente Gregorio B. Tomas, and Officer in Charge – Assistant Regional Director for Operations Ms. Edna J. Sacedor graced the said event.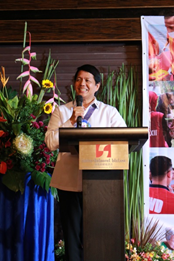 "The Field Office NCR, whatever it succeeds or fails to do, it all depends on the Regional Director. Based on the assessment, we believe in the Central Office that the Field Office NCR made an extra mile and managed its accomplishments. RD Vic, Congratulations." Secretary Bautista said as he praised the Field Office for the milestones it achieved under the leadership of Regional Director Tomas who is coincidentally celebrating his first year appointment anniversary as DSWD-NCR's Regional Director on the same day.
With the theme, "Social Integration: DSWD's Major Thrust in line with Philippine Development Plan 2017-2022", DSWD-NCR aims to strengthen its efforts to achieve its vision, which is to free all Filipinos from hunger and poverty, having equal access to opportunities, enabled by a fair, just, and peaceful society. ###