MANDALUYONG CITY – Amid the Enhanced Community Quarantine being implemented in Luzon, DSWD-NCR's Sanctuary Center still found ways to observe the Lenten season on April 5 to April 8, 2020.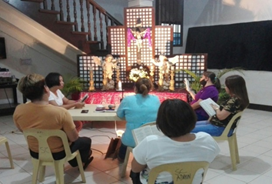 The celebration of Holy Week is an unusual one this year. Families can only pray inside their own houses and attend the mass through television and online platforms. Due to the community quarantine, clients of Sanctuary Center were only able to watch the television mass and recite the prayers to bless their palm fronds or palaspas while staying indoors on Palm Sunday.
Mr. Kenneth Lorenz Jimenez, Property Custodian, and Ms. Buenafe Orcino, Houseparent Supervisor, two of the devoted staff of Sanctuary Center, commenced the observance of Lent and spearheaded the traditional Pabasa ng Pasyon or the singing of "Passion". In all the activities, stringent measures on social distancing, sanitation, and cough etiquette were strictly observed.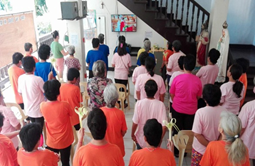 The Center's clients, the wommen of Sanctuary Center, saw the COVID-19 pandemic as a reason and an opportunity to deeply reflect on the true significance of Lent and appreciate the purpose of the crucifixion, death, and resurrection of the Lord Jesus Christ.
The traditional and religious aspects of the Lenten season is being practiced yearly in Sanctuary Center to encourage the Center's residents as well as its staff to observe temperament, self-discipline, and compassion.
Indeed, no coronavirus disease (COVID-19) will hinder the women of Sanctuary Center to praise the Lord and be grateful for all the blessings that they are receiving.
Sanctuary Center is a half-way home for female, 18 years old and above, who are improving from psychosis and other mental illness. Managed by DSWD – NCR, the Center has a 100-bed capacity and is located at Welfareville Compound, Acacia Lane, Mandaluyong City. ###
From the reports of: Ms. Luz M. Buen