Karen Joy Intano, 31 years old, with hearing disability is the third child among her four (4) siblings. Unfortunately, Karen and her younger sister Marrel were born with congenital hearing impairment which she inherited from her father's side. Her mother is an Overseas Filipino Worker in Hong Kong while her father is the one taking care of them. Karen finished Secondary Level at Grace Hope Learning Center wherein she learned lip-reading. Life has also been financially challenging for Karen's family which made her not to pursue College. However, these challenges did not hinder Karen to believe that she can achieve something. She created an opportunity for herself when she started her training on Basic Cosmetology in the National Vocational Rehabilitation Center together with Marrel on August 14, 2017.
Apart from the desire to help her family, Karen wanted to prove that her disability is not a disadvantage but an opportunity.
When she took up the course with Marrel, at first, she has difficulty keeping up to the training but with her perseverance and hardwork, she continued to gradually step forward. She also learned basic sign language so she can dwell with her co-trainees with hearing impairment. This also made her to express herself easy and communicate better.

Karen underwent on-the-job training within NVRC wherein her clients are the staff of the center and her co-trainees. With this, she was able to practice her knowledge acquired from the training. When she finished her training Karen was referred to the Department of Labor and Employment (DOLE) for livelihood assistance where she was granted a starter kit to conduct a beauty care service. Her neighbors became her regular customers as she is observed to provide quality service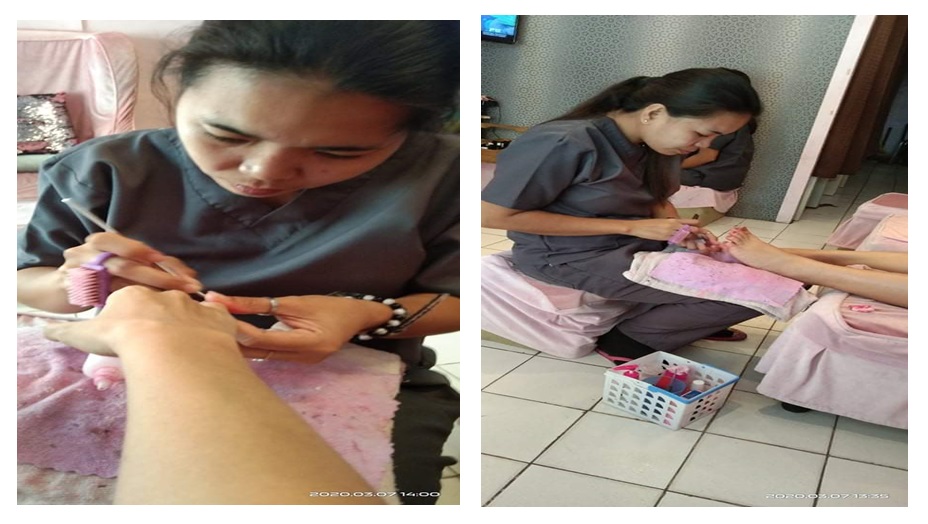 After a few months, Karen was referred to a Salon named Inspirational Salon located in Quezon City. Her specialization is foot and hand care. She earns an average of Php 10,000 per month with free meals and accommodation which is a big help to support her family. She goes home during her day off and sometimes, even during her day off, she offers home service. Her employer admires her good traits as being industrious. She is also skilled enough to have regular customers.
She traversed a long way to achieve her dreams but with determination, hardwork and positive attitude, she was able to walk through the footsteps toward success.
Karen is one of the many graduates of NVRC who is employed on that salon which goes to show that NVRC has provide good opportunities to those who are dedicated and true to their self-promise to follow their dreams.
NVRC is a non-residential institution that provides training and rehabilitation programs and services to persons with disabilities (PWDs) and special groups, including the elderly and dependents of PWDs. It is located at J.P. Burgos Street, Project 4, Quezon City.