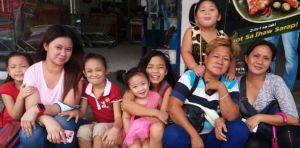 "Ang pagsuporta at pagboto po namin sa inyo ang nakikita naming paraan upang makabawi sa mga magagandang bagay na nagawa ninyo para sa amin."
Those are the words that Ate Maria Theresa Sapida, Pantawid Pamilya member and a former parent leader, will perhaps never forget when she came up with the brave intent to run for 2018 barangay election. The words many not be long nor dramatic but unexpectedly yet powerfully struck Ate Tess like lightning in the middle of the summer.
Running for life, Ate Tess presently takes care of grandchildren Stephanie, 11 year-old; Sophia, 10 year-old; Rhian, 8 year-old; Saicy, 4 year-old and Samcy, 3 year-old who all, as she describes, are the best thing that happened to her life. Through working as barangay tanod, she receives allowance that helps the family address its daily need. Ate Tess uses received cash grants in attending to school needs of Stephanie (the only monitored child in roster) and other grandchildren and in purchasing food especially rice for the family. For quite some time, they've been living on the same roof with some of their relatives of deceased spouse who happen to own the house—probably the cracks and rocks along the race road Ate Tess has to deal with every day for the owners always demands them to leave the house. Ate Tess, in an interview, tearfully confessed how the owner treats them—how they make Ate Tess feel inferior or out-of-place. Bravely though, Ate Tess said, "Kailangan kong maging matatag dahil walang maitutulong kung panghihinaan ako ng loob. Kailangang matutong makibaka kahit na masakit pa. Kailangan na maging matapang sa bawat unos ng buhay kaya sa ngayon kailangan magtiis na muna."
Running from the past that haunts Ate Tess, she recalled how life had been harsh to them before the Pantawid Pamilya came recounting even the difficulty in borrowing even 50 php just to feed the stomach of hungry family and added that before, kamote used to be the family's breakfast, lunch and dinner. Before, Ate Tess even lied to spouse before just to cover acceptance of different 'raket' particularly doing laundry and ironing for other people just so the family can live for a day or two. Luckily, life gave them the opportunity which probably its compensation to all the bitter things that happened to them, they have been part of the Pantawid Pamilyang Pilipino Program. Ate Tess fulfilled the obligations of a Parent Leader with no hesitation that served as a way to earn the respect and trust of the community.
"Ang Pantawid ang nagturo at gumabay sa akin upang maging isang lider. Kung wala ito, baka hanggang ngayon ay mailap pa rin ako sa tao. Minahal ko ang aking mga ka-miyembro. Ang Programa ay tinulungan din ako na bumuo ng isa pang pamilya na pinagbubuklod din ng pagtutulungan at pagmamahalan."
Running for change, Ate Tess independently filed candidacy and ran as Kagawad of Barangay 161. According to co-members,"Ang pagsuporta at pagboto po namin sa inyo ay nakikita naming paraan upang makabawi at tumanaw ng utang na loob sa mga magagandang bagay na nagawa ninyo para sa amin." It served as Ate Tess's motivation and she won. When asked about her plans for the barangay, Kagawad Tess wants to initiate feeding program in the barangay's day care center, start children and youth-centered activities and intensify services for the elderly. On leadership, Kagawad Tess stated, "Para ata akong hinabol ng pagka-lider na na-develop sa akin noong ako ay naging Parent Leader sa ilalim ng Pantawid Pamilya. Basta gusto kong matulungan ang lahat ng nangangailangan mapa-miyembro man sila ng programa o hindi."
Kagawad Tess selflessly talked about her goal in life—to own a house and live a simple life with her loved ones.
Running with Pantawid Pamilya, Ate Tess, whose life has been touched by the program in countless ways proves again that no one is alone in any race. Cash grants may be enough to solve every problem that one faces in the world but sure enough, the Program will never get tired to act as a running shoes for the member beneficiaries in aiding them win the run of their lives.