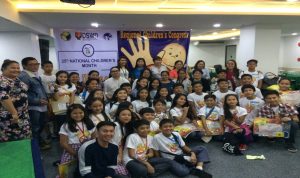 In line with the commemoration of 25th National Children's Month, the Regional Committee for the Welfare of the Children- National Capital Region (RCWC- NCR) held the 2017 Regional Children's Congress with a theme, "Bata: Iligtas sa Droga!"  in Icon Hotel Timog on November 27- 28, 2017.
There are about one hundred sixty three (163) participants from the LGUs of Makati, Manila, Parañaque, Muntinlupa, Taguig, Mandaluyong, Pasig, Marikina, Caloocan, San Juan and five (5) finalists of Exemplary Children of Pantawid Pamilya together with the staff and clients of centers of DSWD NCR such as Haven for Children, Nayon ng Kabataan and Elsie Gaches Village.
Ms. Glenda Derla, Social Welfare Specialist for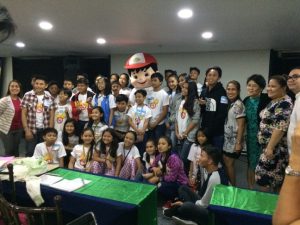 Children tackles the objectives of the activity, the rights of the children to participate in society and the Republic Act 10661 or the declaration of every November as the National Children's Month (NCM) with the Council for the Welfare of Children (CWC), Department of Social Welfare and Development (DSWD) and the National Youth Commission (NYC) as lead agencies.
With its theme, the Dangerous Drug Board through Ms. Jehnmarie Dawn Frias, Program Coordinator Preventive Education Training and Information Division shares a lecture regarding the Drug Prevention and Awareness with the main highlight, the Decision-making Skills on how to avoid illegal drugs through emphasizing its negative impact.
After the lecture session, the participants divide into five groups to do the simultaneous group activity such as spoken words making, jingle making, collage making, poster making and pantomine that should related with the theme that makes the activity successfully created and present their output with each other.
The Regional Committee for the Welfare of Children is composed of PSA-NCR, NCRPO, PIA-NCR, DOLE-NCR, DILG-NCR, DOH-NCR, NNC-NCR, DepEd, MMDA, Bantay Bata 163, Hope for the Youth, VMLP NCR, NAPC, BSC, Liga ng mga Barangay and DSWD NCR as the chair of the committee.###