In partnership with the Department of Interior & Local Government-National Capital Region (DILG-NCR), the Department of Social Welfare & Development (DSWD) led by the Social Welfare Specialist for Children and Regional Committee for the Welfare of Children (RCWC) Focal Person Ms. Glenda M. Derla with the Adoption Resource & Referral Section conducted a one-day Orientation Forum of NCR Barangays/ BCPCs on Adoption & Foster Care Programs on April 25, 2017 at Best Western (La Corona) Hotel, Manila. This activity aims to ensure that all surrendered, neglected and/ or abandoned children in the respective barangay/ municipality/ city shall be assessed and declared as legally available for adoption before placement for foster care or adoption.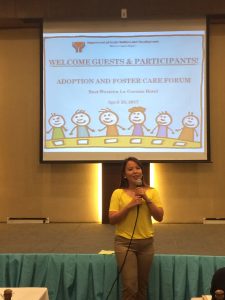 As representative of DSWD-NCR Regional Director Mr. Vincent Andrew T. Leyson, Ms. Hazel T. Militante, Division Chief of Protective Services Unit (PSU) delivered the welcome remarks. She recognized the efforts of the organizer/ facilitator in conducting the forum to increase the awareness of the targeted participants on the proper and legal way of adopting/ fostering children who were victims of abuse, abandonment and neglect.
"By this orientation forum, let us all work together starting from the barangays up to the Cities and Municipalities to protect and safeguard our children from the different abuses in the society/ community", Ms. Militante emphasized.
Resource Person from DSWD discussed different topics related to adoption and foster care of a child. The Situationer of Children in the National Capital Region was discussed by Ms. Maricel M. Barnedo, OIC of Adoption Resource Referral Section (ARRS); Republic Act 10165 "Foster Care Act of 2012 was presented by Ms. Liezel V. Gonzales OIC of Foster Care Section; Republic Act 9523 "Act Requiring Certification of the DSWD to Declare a Child Legally Available for Adoption as Pre-requisite for Adoption Proceedings was delivered by Ms. Susan B. Nuyles SWO of ARRS; and DSWD Social Welfare Specialist & RCWC Focal Person for Children Ms. Glenda M. Derla tackled the Rules & Regulations on the Reporting & Investigation of Child Abuse Cases & Abandonment of Children and Republic Act 8552 "Domestic Adoption Act of 1998". The program flow and discussions during the sessions were facilitated by Ms. Cressida J. Valientes SWO of ARRS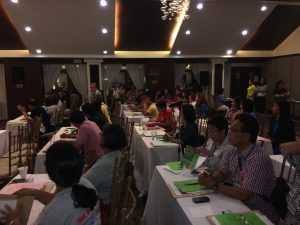 The activity was accomplished with the commitment setting initiated by ARRS Social Welfare Officer Ms. Hiara Jemina M. Basa wherein each participant wrote and posted their commitment/ pledge for children and to themselves in promoting the best welfare of every child in the community.