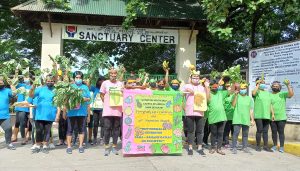 During July, Filipinos celebrate nutrition month to promote healthful eating and physical activity habits in the country. The nationwide annual event aims to establish the value of having good physical condition in each household by observing a healthy lifestyle. The DSWD Sanctuary Center administered its annual celebration of wellness month with the theme: "New Normal sa Nutrisyon Sama-samang Gawan ng Solusyon". While the country is still adjusting to the new normal, the staff and residents of SC come up with a unique celebration of nutrition month to promote fitness and health awareness in the facility.
The event commenced with a Nutri-Parade spearheaded by Ms. Loren May Oliva Nutritionist – Dietician of SC on July 4, 2022. Joined by the dynamic residents and staff of the center, the participants roam around the vicinity of the institution to present colorful images of fruits and vegetables while carrying freshly picked perishables in their backyard.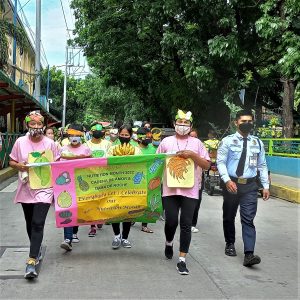 The fruitful month-long celebration of nutrition month continued as the center organized an inclusive orientation concerning the well-being of the residents, titled "Ways to be Healthy during Pandemic". The activity aims to educate the locals that having an overall healthy lifestyle includes getting enough sleep, managing stress, and feeling good about themselves. It also reminds them of their participation in preventing the transmission of the COVID-19 virus by maintaining proper hygiene, and regular hand washing along with observing physical distancing.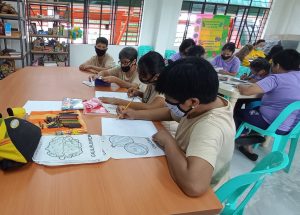 Meanwhile, on July 12, 2022, a poster-making activity was conducted and participated in by several residents of the center. Participants engaged in the said event are encouraged to create a poster portraying ways to be healthy during the new normal.
Moreover, the highlight of the event was the Zumba dance competition joined by four vigorous group dancers of the center. The dance activity focused on improving the self-esteem and creative skills of the participants which develops their discipline and social interaction.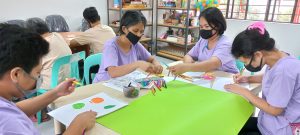 The event ended with the awarding of the participants for the poster-making contest and Zumba dance competition. Ms. Oliva expressed her warm gratitude towards the success of the event, she also advised the residents and the staff to practice a healthy lifestyle by having a balanced diet and doing physical activities. All awardees as well as July Birthday Celebrants were given simple tokens by the Dietary Service.
The Department ensures that the Centers and Residential Care Facilities (CFRCF) organize activities for the betterment of the residents by promoting healthy endeavors valuable for relieving anxiety and maintaining the good health of the beneficiaries.