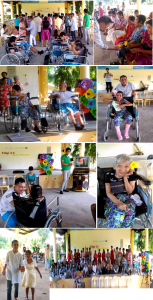 Grandparents Week was celebrated in EGV paying respect and importance to the geriatric residents from the three cottages namely Sta. Ana, San Lorenzo and Waling-Waling. The week-long activities were planned and executed by the Psychological Service in coordination with service units involved.
The long week celebration started with distribution of Gratitude Cards last September 4, 2017 after the Flag Ceremony to staff who were already enjoying their moments and perks of being Lolo and Lola. A simple message of gratitude and appreciation to their love and efforts were written. Likewise, last September 6, a mini-ball and September 9 a videoke party was organized for the senior residents from three cottages. Residents actively enjoyed the groove of ballroom music like tango, cha-cha, waltz and swing.
They enjoyed the bonding through the groove of retro music. Residents also celebrated their moments through videoke singing. Male residents offered a simple gesture of love by giving flowers to their chose female dates. After a simple merienda, a community singing of Handog (Tatanda at Lilipas Rin Ako) culminated the ball.
The grandparents' week celebration was another venue for enjoyment and appreciation for the elderly residents. When asked about the things they are thankful for, William Cao of San Lorenzo cottage shared his gratitude with other residents. The value of togetherness despite of their differences and the sense of being family is one of the many things he is thankful for. Tessie Regalado of Sta. Ana cottage also shared her gratitude to the community of dedicated people serving and taking care of them even they are quite hard-headed sometimes.###