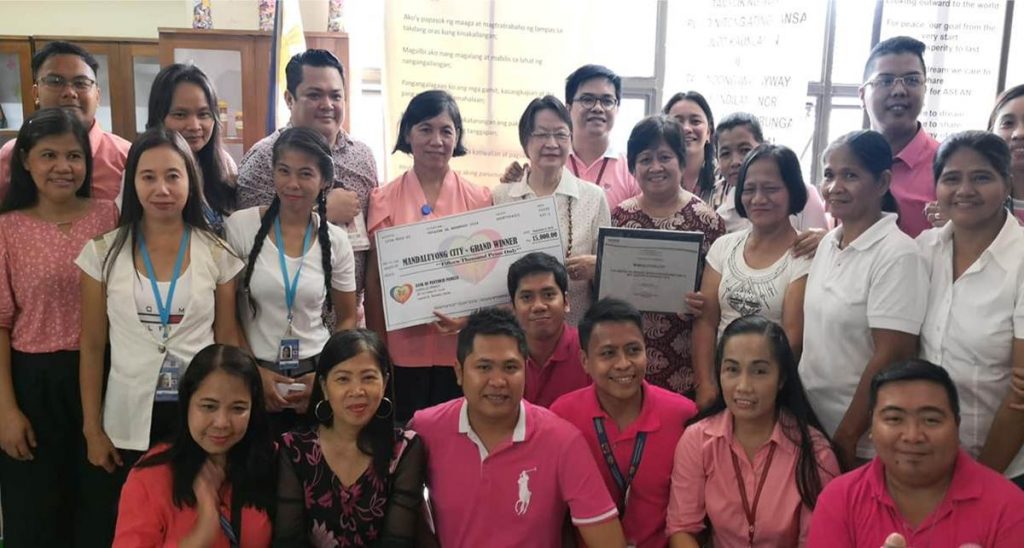 The Local Government of Mandaluyong was awarded as the winner in the first Regional Search for Pantawid Pamilya Best Gulayan sa Barangay 2018 conducted by the Department of Social Development and Welfare National Capital Region (DSWD-NCR).
The Local Government of Pasay was awarded the 4th runner-up while the Local Government of Manila was awarded 3rd runner-up. The Local Government of Muntinlupa and Taguig were awarded 2nd runner-up and 1st runner-up, respectively.
Assistant Regional Director for Operations Edna J. Sacedor and Mr. Joel D. Cam, Regional Program Coordinator of Pantawid Pamilyang Pilipino Program awarded the winners during the DSWD-NCR Field Office Flag Raising Ceremony on September 3, 2018. The top 5 Gulayan sa Barangay groups received a cash prize and a certificate of recognition.
The contest was open to all Pantawid Pamilya members from Local Government Units across the region. A desk validation of the submitted nominations was conducted by selected Pantawid Pamilya Regional Project Management Office focal officers who served as judges to the competition.
After the judges chose the top 5 Gulayan sa Barangay from all the LGU nominees, a field validation was conducted to visit the finalists' gardens to ensure that data included in the documentation are accurate and to acquire information that was not included in the entry submission.
The communal gardens of the finalists were evaluated for their uniqueness, creativity and use of recyclable materials. The leadership and group cohesiveness of the group maintaining the Gulayan was also a criterion for the contest. The garden's sustainability was another factor in determining the best Gulayan sa Barangay in the region.
The regional search aimed to showcase the establishment and the maintenance of the Gulayan sa Barangay of the Pantawid Pamilya members. The contest also aimed to underline the impact of the communal garden in their respective barangays in terms of contribution to nutrient sufficiency, food security, community development, and potential livelihood opportunities. It also encouraged members to be more involved, increase their awareness and sustain their interest in urban gardening.  ###