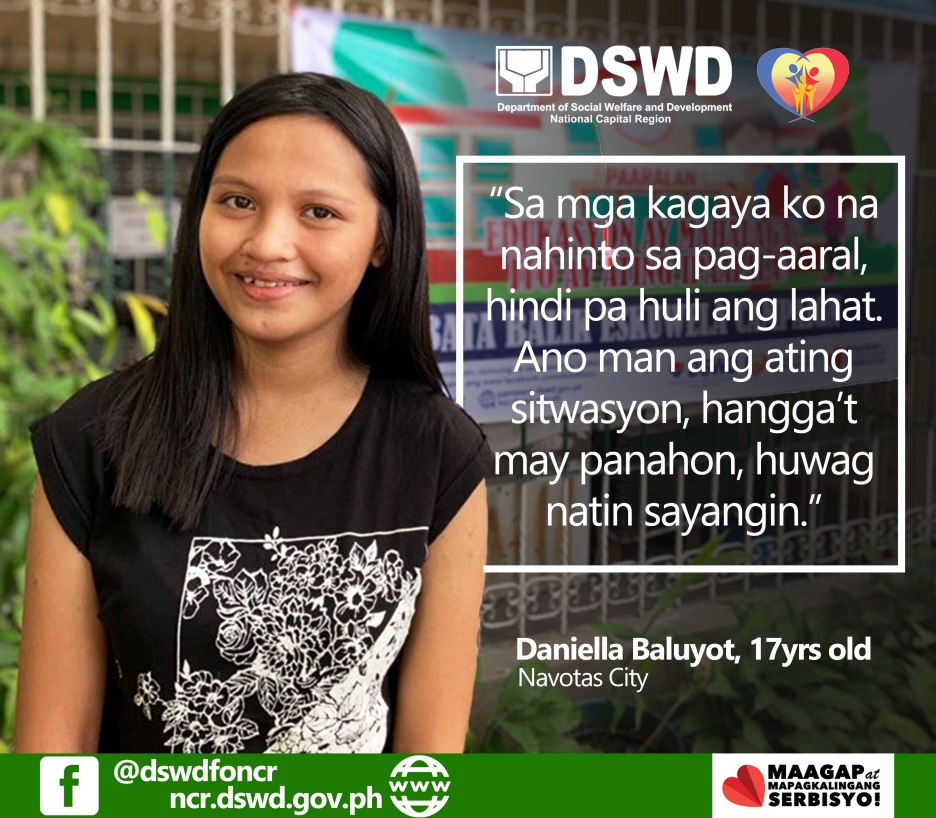 The goal of breaking the inter-generational cycle of poverty in the country is a long and winding road. Many would argue that education is one the causes of the poverty, that it is essential for us to achieve our goals and vision. Daniella Baluyot of Barangay San Roque, Navotas City is one of those students who value education that regardless of what she has gone through, she continues her schooling.
Daniella is the eldest among the four (4) children in Baluyot family. Her father who works as helper in a shipyard raised the family by earning 500 Pesos a day that they budget to cover their daily necessities. With the meager income along with the cash grants they are receiving from the Pantawid Pamilya, keeping the children in school is quite a challenge for the family. Regardless of the situation, they did not let the children stop from education because according to her, her parents believe that education is their key for their success. Financial problems stand as a wall on their way out of poverty. In 2017, she met her boyfriend who eventually became the father of her child. She became part of the grappling high number of teenage pregnancy cases in the country. According to the most recent National Demographic and Health Survey (NDHS 2017) from the Department of Health (DOH), the incidence of teenage or adolescent pregnancies remains at a considerable rate. Overall, some nine percent of women from the age of 15 to 19 have already started childbearing.
She received criticisms and judgments from the people around her but she took it as a blessing instead of regret. The family is presented with another challenge and in most cases; teenage pregnancy increases the out-of-school cases due to the responsibility of raising a child. Being a teenage mother is tough according to her, the stigma attached to teenage pregnancy along with the culture of blaming pummeled her self-esteem and positive outlook in life. Adding to the stress are the mounting expenses of raising a child. Despite of the circumstances, she is one of the few teenage mothers who did not sacrifice her education. She said that, her mother constantly reminded her on the importance of education especially for the future of her growing child. She is now a Grade 11 student at San Roque National High School in Navotas City. She dreamt of becoming an accountant someday.
She shared what she has learned as a teenage mother, it is to be mindful on the consequences of your actions so as not to have regrets in the end. "Sa mga kapwa kong bata at nag-aaral, sa lahat po ng ginagawa natin dapat po laging may limitasyon kasi ang pag-aaral lang po ang tanging yaman na maibabalik natin sa ating mga magulang," she added. She is very thankful that the Program continuously supported their family even if she is now a teenage mother. She ended with a reminder for those out-of-school children and youth that they are not yet late, that they could still finish their studies. We can only achieve our dreams if we work our way through it. ###