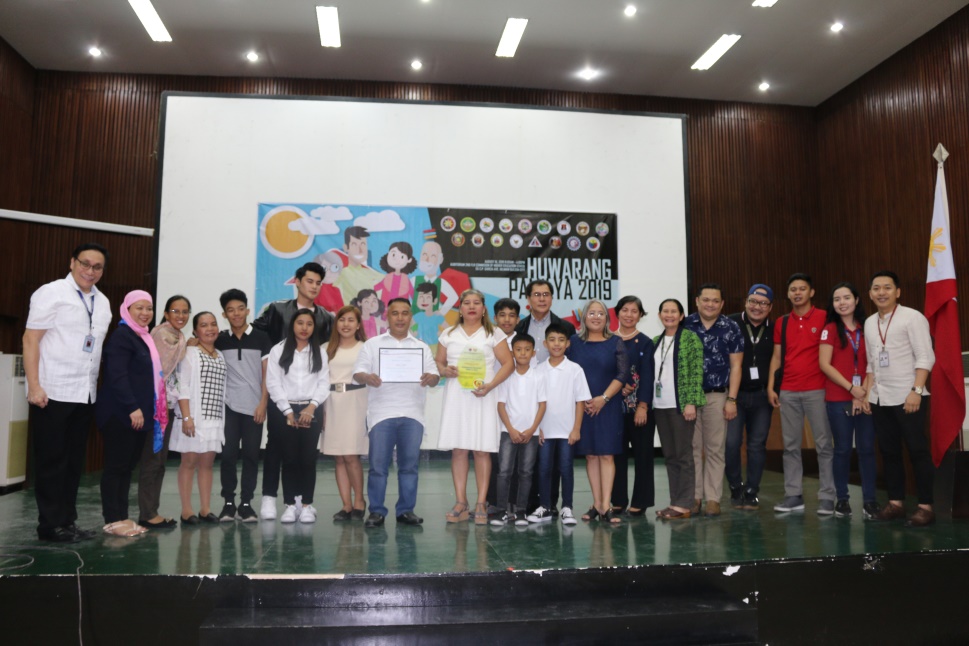 Quezon City — Jamolo family from Barangay Merville, Paranaque City took home the plaque for this year's Huwarang Pantawid Pamilya held at Commission on Higher Education 2nd floor Auditorium, Quezon City.
The Jamolo family conquered the plaque from 16 other contenders from their respective Local Government Units in National Capital Region.
Ninfa, 47, the mother of the family was a former Barangay Health Worker and currently serving as a Solo Parent and PWD's desk officer in their Barangay.
Adding to her arsenal of community activities, she has been a member of Samahan ng mga Ilonggo sa Parangaque for 6 years, a group formed to help the Ilonggos living in Paranaque City; the Assistant Secretary of Samahan ng Inaping Dukha for 3 years, a group formed to aid the victims of abuse and violence in their Barangay; and a member of Samahan ng Nagkakaisang Pantawid Pamilya, a group of Pantawid Pamilya members advocating the vision of the Program and the welfare of their co-members.
This year, through her incomparable efforts, she was able to finish her High School Education, making her an epitome of diligence for her children. It is perhaps the biggest recognition she could share to her children.
Joemari, 50, keeps the family steady by steering the wheel of his taxi; he is the team leader of Christian Family Movement, assembled to help families in spiritual formation. He is the adviser of Sitio Manggahan II-A Neighborhood Association for 3 years. He emphasized that their family is never perfect but to raise their children as responsible individuals with a sense of love for their community are just enough for him as a father. 
The children of Jamolo family made a name for themselves, especially Jenny Rose, 20, presently on her 5th year in college. She once served as Vice President of Integrity of Students in Action Program at Kalayaan National High School for 4 years. As a college student, she was the delegate ambassadress for United Nations Educational, Scientific, and Cultural Organization representing Polytechnic University Philippines.
Jamolo Family is not perfect but through their support and love for each other, they walked through the toughest challenges that made them a model for other families. To witness their family develop through ups and downs while finding their way out of poverty is more than the recognition they had received.
The Search Continues
Over the past ten years, Pantawid Pamilya has witnessed positive changes in the lives of its family members. Impact evaluations on the program showed that it is on track on keeping children healthy and in school. Increase in community participation and civic engagement also reflected in the reports about the program. Hence, countless success stories showing the significant effects of the program prove that the poorest of the poor Filipino families leap their way through a self-sufficient level of well-being.
The National Search for Huwarang Pantawid Pamilya has been one of our venues to showcase these triumphant stories. Those family-members who maintain strong family ties, demonstrate positive Filipino values, and have a positive impact in the community are recognized through this search.
It promotes positive behaviors that we want our family-members to adopt such as putting a premium on children's health and education and becoming active citizens. This is an institutionalized activity that communicates the stories of huwarang families that provide program members the actual examples of how hard work, family togetherness, and the assistance from Pantawid Pamilya could lead to affirmative changes in their lives.
This year, there were 25 families endorsed from Local Government Units after a thorough deliberation by the Provincial Selection Team/Operations Office. Selection Team consists of Social Welfare Officer III, City/Municipal Link, and one external judges. The 25 entries underwent Desk Validation by the Regional Selection Team consists of Information Officers, Regional Gender and Development Officer, and the Family Development Session Focal Person of Pantawid Pamilya.
As a result, 17 contenders from 17 LGU's were subjected for Field validation from July 22-24, 29-31, 2019 until August 1, 2019. Various Representatives from Regional Inter-Agency Committee for Filipino Family joined in the quest to find the Huwarang Pantawid Pamilya 2019.
Before the regional winner, the following families were awarded in order; Tubello Family from Mandaluyong City as the first runner-up, Bachicha Family from Navotas City as the second runner-up, Domino Family from Marikina City as the third runner-up, and Vega Family from Makati City as the fourth runner-up.
With the addition of Gender Sensitivity Assessment Checklist, Apart from the runners up, the group of validators provided a special award to Fuentes Family of Pasig City. ###