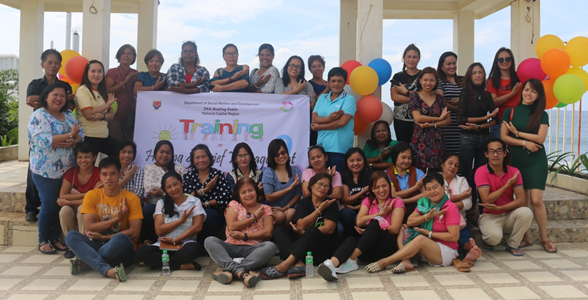 The DSWD – NCR Inang Nangulila sa Anak (INA) Healing Center conducted a 3-day training on Healing and Grief Management for Peer Support Mentors on November 11 – 13, 2019 at Treasures of Bolinao Beach Resort, Pangasinan.
The training aims to enable the Peer Support Mentors from the Local Government Units (LGUs) of NCR to understand and have knowledge on healing and grief management, increase their confidence and competence in facilitating bereaved clients of the Center, and to provide additional knowledge for the participants on Grief Etiquette Coaching.
Ms. Russelle Ane Dela Cruz, Guidance Counselor of Rizal Technological University, served as the Resource Person for the topic "The Grief Etiquette". She imparted the importance of understanding the grief etiquette as one of the basic skills of a Peer Support Mentor. Ms. Emmanuelle Santiago, also a Guidance Counselor of the RTU, discussed the "Healing and Grief Management". She emphasized that grief is a normal response in an emotional suffering when someone or something we love is taken away from us. Lastly, Ms. Mary Beth Miranda, Guidance Counselor as well of RTU, discussed the "Psychological Aid for Grieving Person". The Psychological First-Aid or the PFA is the First-line Psychological support to an individual after a crisis event. PFA is a humane, supportive, and practical assistance to fellow human beings who recently suffered a serious stressor.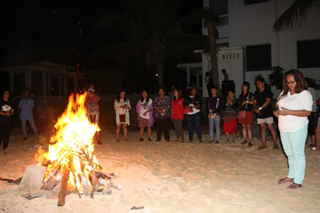 On the second and last night of the training, the participants were gathered along the seaside and bonfire as part of the "Bidding Final Goodbye to the Loss" activity. They were all asked to wrote down their pains from the past so that they can let go, empty their hearts, and make room for new beginnings.
They also shared their past experiences on grief and how they were healed through INA Healing Center's programs and services.
INA Healing Center is a non-residential facility where grieving individuals who lost their loved ones are given psychosocial support to help others who are in similar situation. The Center is located at the DSWD Central Office, Batasan Pambansa Complex, Constitution Hills, Quezon City. ###