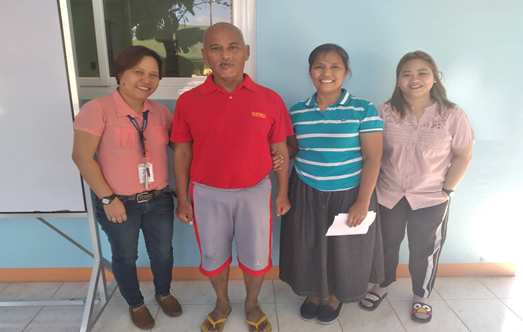 DSWD-NCR's Jose Fabella Center (JFC), a temporary shelter, processing, and diagnostic center for strandees, vagrants, and mendicants, houses more than 200 rescued individuals and street dwellers who were referred by Local Government Units in Metro Manila.
Antonio Bello Jr., 54, was found loitering around the busy streets of Makati City. Makati Social Welfare and Development Office referred Antonio to DSWD-NCR's Crisis Intervention Unit and was later on given under the custody of Jose Fabella Center.
Mentally deranged, it was almost impossible for JFC to find Antonio's family as the Center wasn't able to extract any lead through Antonio's statements.
Two weeks in, JFC is still patiently waiting for someone to claim Antonio. The Center coordinated his information to several LGUs and even posted information on social media that may catch Antonio's family or relatives' attention.
Fortunately, Maria Sopia Bello, Antonio's sister, was able to track his whereabouts through the social media efforts of JFC. Apparently, Sopia has been looking for his brother for almost two (2) months. The happiness on Sopia's face is priceless as she thanked the Department for its hardwork that led to her finding Antonio.
"Mahirap po talagang magkaroon ng kapatid na may kakulangan sa pag-iisip. Pero mabuti na lamang po at nakuha ng JFC ang kapatid ko. Buti na lang po at siya ay buhay pa." Sopia expressed.
JFC's primary goal is to reunite the individuals living in the streets with their respective families. Like any other Centers and Residential Care Facilities managed by DSWD-NCR, JFC strongly believes and advocates that a person's own family is still the best people to live with. ###