Lilia hails from Calbayog Samar, Leyte. She has a fair complexion, medium built body and about 5'2" inches tall. She is the eldest among three broods in the family. Client was able to finish high school level however, due to meager income of the family, Lilia discontinued her schooling. She assumed as bread winner to provide needs of the family.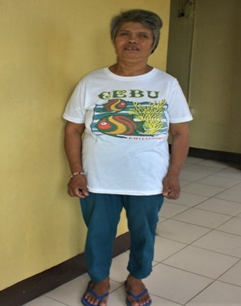 Lilia worked as house maid to different employers for over 20 years in the Metro but she ceased working as housemaid since she can no longer do the tasks required from her as she aged and gets weaker. She does not have any relative to stay with at the City.
Despite of old age, she worked for her own to survive. She wanted to go back to the province however; she lost the memory of her place anymore. In order to survive, she worked as street sweeper at Quezon City where honorarium is good for her daily needs for almost 10 years. She ends up along the stretch of Quezon City until she can no longer work.
She was rescued by the MMDA and was referred to Social Service Development Department (SSDD) for proper case management. Client then displayed psychotic features and was brought at National Centre for Mental Health. After discharge from NCMH, she was referred to the Sanctuary Center with diagnosis of Undifferentiated Schizophrenia on February 11, 2011 for psychiatric care and rehabilitation.
Upon admission at the center, client then was already old and weak, but she easily adapts herself in the center. She participates in different activities of the center. On June 27, 2017, client was diagnosed with cervical cancer and after a few months she underwent an operation (TABISO or a surgery to remove the uterus).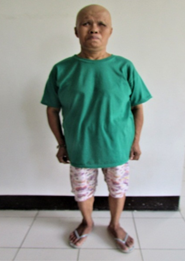 On December 12, 2017, the resident underwent chemotherapy treatment once a month at the Rizal Medical Center. The resident has knowledge about her illness but this does not affect her current functioning instead, it gives her the courage to fight against her sickness by religiously taking her medicines and showed willingness to take any procedures in order for her to be healed. Despite of pain that she endures, Lilia remains still with good disposition.
On December 2018, client has declined health condition. She was hospitalized at Rizal Medical Center (RMC) for a month, but Lilia was a fighter, and she still believes that she can win the battle against cancer.
On January 3, 2019 she was rushed again at RMC but after a few days of confinement Lilia peacefully passed away.
The center did all the possible intervention for the bio-psychosocial and spiritual being of the client, but our LORD almighty has a better plan for her.
Sa kabila ng lahat ng hirap, nakakapagod at paulit-ulit na ginagawa sa akin (medical procedures), ako ay nagpapasalamat sa lahat ng pag-aaruga at suporta ng DSWD Sanctuary Center at mga staff. Ang Sanctuary Center ay ang aking tahanan, ang aking Sanctuario!" – Lilia
Sanctuary Center is a half-way home for female, 18 years old and above who are improving from psychosis and other mental illness. It has a 100 bed capacity and is located in Welfareville Compound, Acacia Lane Mandaluyong City.###