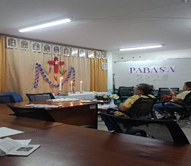 QUEZON CITY – DSWD-NCR's Reception and Study Center for Children (RSCC) conducted the Stations of the Cross and Passion of Christ, commonly known as Pabasa, as part of the celebration of the Lenten season on April 6-7, 2020.
Pabasa, a tradition that the Filipinos adapted from the Spanish regime, is being done yearly by RSCC to create strong bonding and collaborative spirit among the children and staff of the Center. It also aims to inculcate good spiritual values to the children, values that they will carry as they grow old and mature.
The activity started with the conduct of Stations of the Cross, followed by the reading of the "Passion". Prayers for the healing of the nation from COVID-19 pandemic was specially offered in the Pabasa. Each station in the Stations of the Cross were fixed with decorations while the Center's conference room was also beautified for the conduct of the Pabasa.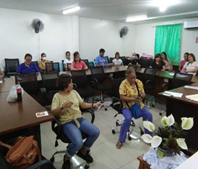 In this trying time, having cooperation and unity is very crucial to flatten the curve. RSCC surely practiced these values as all the staff, even their Center Head, Ms. Rowela F. Hizon, collaborated to make the Center's activities possible amid the Enhanced Community Quarantine. In all of the activities, social distancing was strictly observed to ensure the safety of everyone in the Center.
Reception and Study Center for Children is a residential care facility managed by DSWD NCR, which caters to 0 to 6 years old children who were abandoned and deprived of parental care and support, through the provision of temporary care, custody, or alternative family care services. It is located at Bago-Bantay Extension, Quezon City. ###
From the reports of: Ms. Ma. Solita C. Madriaga, Supervising Houseparent, RSCC