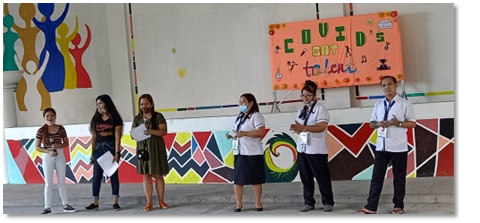 The Haven National Center for Women celebrated their Festival of Talent, on June 29, 2020 held at Haven for Women's, KC De Venecia Gymnasium.
To formally open the program, Haven for Women's Officer-In-Charge Ms. Catherine N. Taleño gave her opening remarks followed by the presentation from the selected residents from Magnolia, Jasmin and Transition cottage.
The Festival of Talents is annually conducted to showcase the talents, skills and the ability to share what they have in terms of role playing and scenarios about the current situation of everyone fighting the pandemic. The performances gave emphasis on the importance of following the preventive measures which help people to be safe from COVID-19.
To end the program, the residents were given certificate of appreciation and were acknowledged one COVID-19 recovered patient.
The activity gave appreciation and support to all front liners who wholeheartedly serve and give a part of themselves to provide the right and proper service.
The Haven National Center for Women is a 24 –hour care facility which provides temporary shelter, care and protection to women who are victims of gender-based violence (abandoned, abused, maltreated and exploited) whose ages are from 18-59 years old., who need protective services, as well as other services that will promote healing and recovery. ###