The Department of Social Welfare and Development Field Office National Capital Region (DSWD FO NCR) – Disaster Response Management Division (DRMD) joins the observance of the World Tsunami Awareness Day (WTAD) 2021 with the theme: "Tsunami Awareness, Community Preparedness, and Proper Response in the New Normal" on November 5, 2021.
"Due to the presence of offshore faults and trenches, the Philippines is prone to the tsunami. According to research, around 10-14 million people living along the coasts may be affected if a tsunami occurs. Further, locally-generated tsunamis can come in minutes, therefore it is crucial to recognize the natural indications – tremors drop, or roar – so people can respond properly", said DOST Undersecretary and PHIVOLCS Officer-in-Charge Renato Solidum Jr. in an article from phivolcs.dost.gov.ph.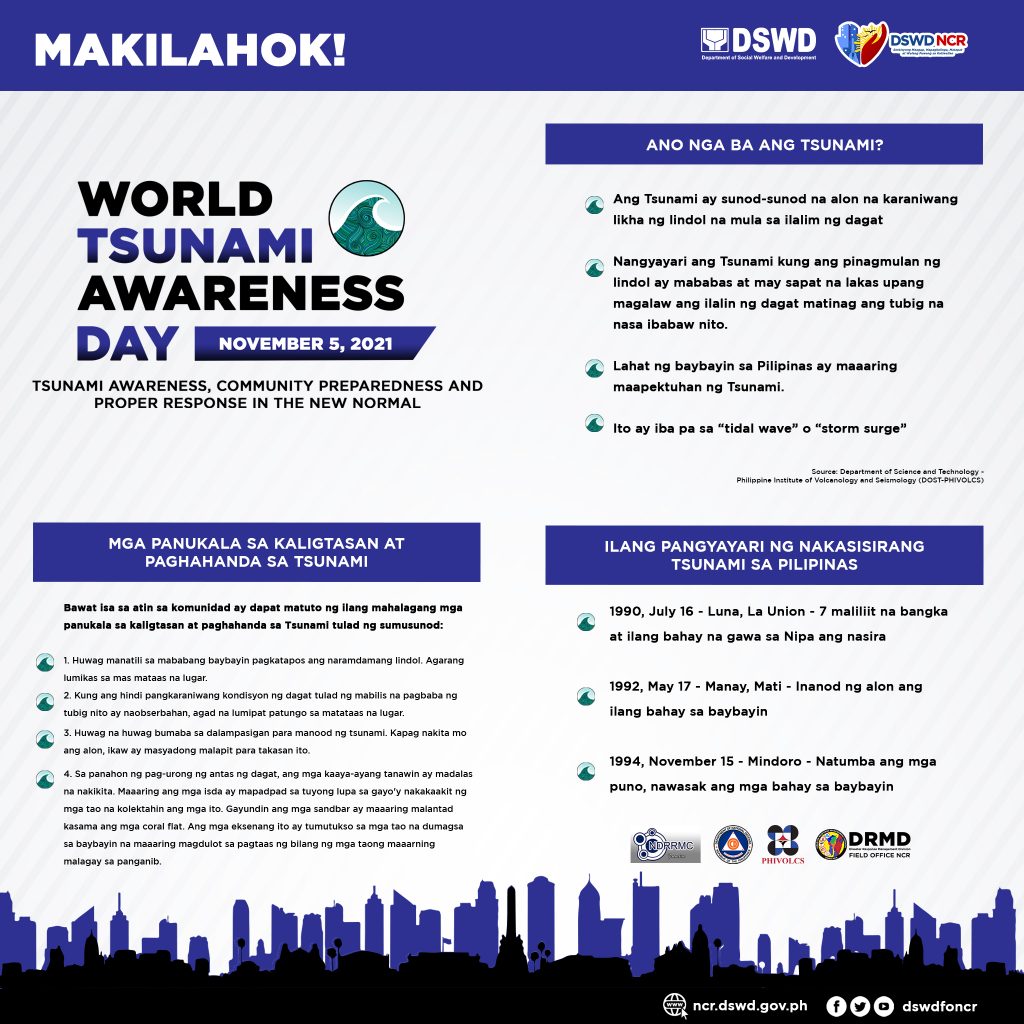 With this and affirming the importance of disaster awareness, DSWD FO NCR-DRMD initiated tsunami-awareness activities including the posting of an infographic featuring the most destructive tsunami event which happened in the Philippines on August 17, 1976, particularly in Moro Gulf, Southern Mindanao. Said infographic material contains information such as 1. What Tsunami is; 2. Natural Signs of an Approaching Local Tsunami; and 3. Safety and Preparedness Measures in the event of a Tsunami.
Further, DSWD FO NCR-DRMD encouraged its clients and staff to participate in the DOST-PHIVOLCS webinars and Facebook live in relation to the said eventInfoSentro sa PHIVOLCS: Observance of the World Tsunami Awareness Day https://fb.watch/98ztrH_YGq/. Through science-based and practical information, the webinars aim to enable the public to prepare, respond, and protect themselves in the event of an earthquake and tsunami, especially amidst the COVID-19 pandemic.
DSWD FO NCR with its partner agencies will continue to raise awareness and promote similar endeavors to build a disaster-resilient nation. ###