DSWD Field Office NCR and various National Government Agencies signed the Enhanced Partnership Against Hunger and Poverty (EPAHP) on March 25, 2022, held at Oracle Hotel and Residences Loyola Heights Quezon City.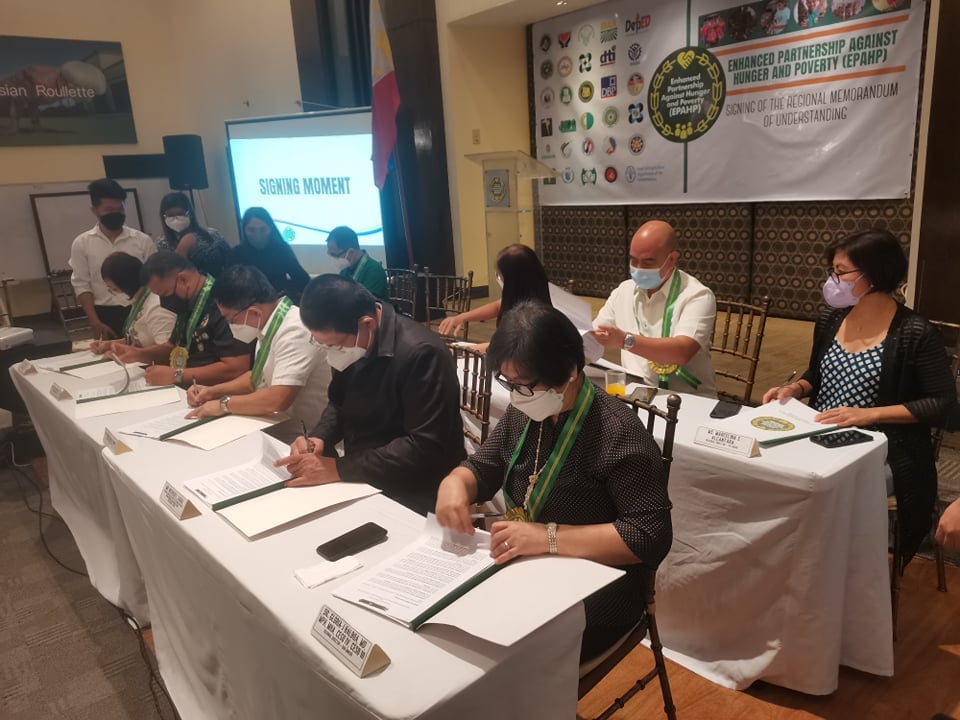 The RMOU promotes an enhanced partnership of the different National Government Agencies to build a greater collaboration in implementing food and nutrition security in the country.
The event was graced by the DSWD NCR Regional Director Ferdinand Lazaro D. Budeng and Assistant Regional Director for Operations Lea B. Swindler, and the delegates from the various NGAs.
Dir. Budeng complimented the people and the offices behind the joined memorandum in fighting hunger and poverty.
"I would like to congratulate the men and women behind this event, also the government agencies and local government units who collaborated and worked with us to make this happen." He said.
Moreover, he stressed that the program objectives of the RMOU are to ease hunger in the Urban and Rural communities. The director appreciated the effort of NGAs who participated and joined in the activity.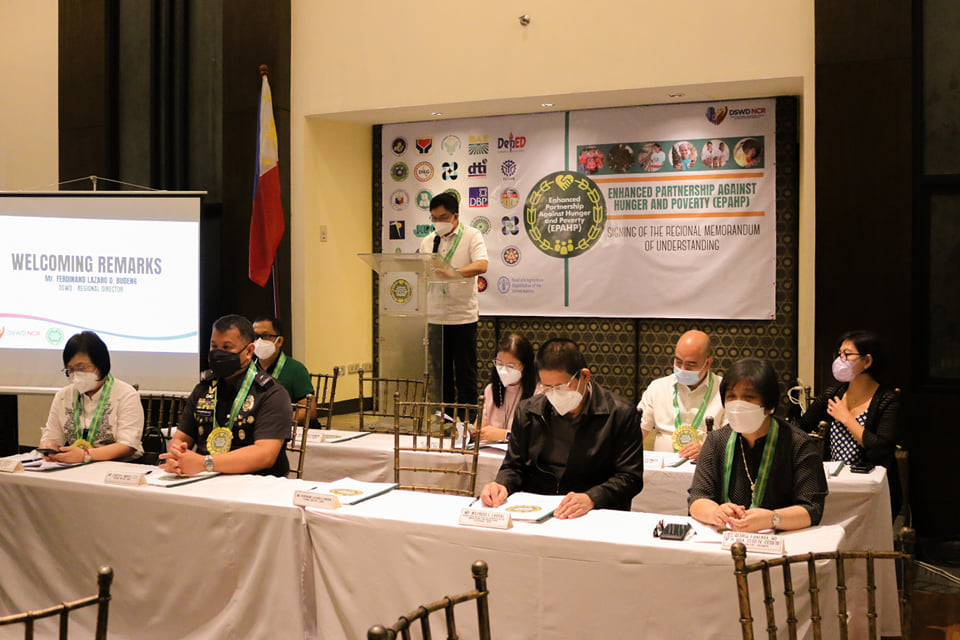 "This program represented by different agencies present today would create greater synergy and convergence to increase farm productivity and income, ensure food and nutrition security, and mitigate hunger and malnutrition in the urban and rural communities. The MOU that we are going to sign today formalizes the convergence at the regional level. I would like to extend my gratitude to all agencies represented in today's activity for your benevolence in supporting the enhanced partnership against hunger and poverty." He added.
Meanwhile ARDO. Swindler expressed her gratitude to the NGAs who worked hand-in-hand to fight poverty and hunger by providing exceptional public service to the beneficiaries and clients o the said Program.
"The long wait is over. Here we are now in this changed time where the government has clear ears to hear the sentiments of the people, clear eyes to see the real situation, and working hands to ensure the programs and services are being rendered at all cost." Said ARDO Swindler.
Moreover, National Anti-Poverty Commission Dir. Ferdinand Hombrebueno delivered a speech on behalf of NAPC Secretary/Lead Convenor Atty. Noel K. Felongko to illuminate the main objective of the program in alleviating hunger and poverty, which will lead to the improvement and development of the country. 
"Our primary goal is to work harmoniously to address these current problems and to uplift the lives of our impoverish brothers and sisters for the development of our country." said ARDO Swindler.
The program was capped by the signing of the RMOU. The EPAHP is a joint program against hunger and poverty from the different sectors of the government. Under this program, it aims to provide immediate assistance to reduce poverty and mitigate hunger in every community.