The DSWD-NCR honored its employees and retirees during the DSWD's 64th founding anniversary. A thanksgiving mass held at the field office grounds was celebrated by Rev. Father Alberto Avansado, OAR. In his homily, he mentioned that "you cannot do your job well if you do not find happiness in it."
Recognition of genuine public service
The second part of the program was the recognition of loyalty awardees and retirees. In her welcome remarks, Regional Director Ma. Alicia S. Bonoan commended the DSWD-NCR team for being steadfast and dedicated social service personnel. Amidst the many allegations about the Department recently, Director Bonoan addressed the DSWD-NCR staff by saying "kahit ano mang batikos 'o kritisismo ang ating natatanggap, patuloy ang pagbibigay ng matapat, mahusay at magiliw na serbisyo natin sa tao." Director Bonoan capped her talk with the announcement that Field Office NCR bagged the "Gawad sa Makabagong Teknolohiyang Panlipunan" award in the recent awarding ceremonies at the central office.
Presenting the staff who remained loyal to the Department
A total of 63 employees from the field office and centers and residential care facilities (C/RCFs) under DSWD-NCR were conferred with medals made of capiz shells and plaques of recognition bearing their length of service in the agency. Of the awardees present, 20 are based in the field office while 43 are in the C/RCFs.
Based on milestone years, 17 staff served for 10 years; 19 for 15 years; 11 for 20 years; six (6) for 25 years; three (3) for 30 years; and four (4) for 35 years. Three (3) employees reached their 40th year in service. These are Mr. Reynaldo V. Santos, MDO I at Rehabilitation Sheltered Workshop (RSW), Mr. Celso T. Caraveo, Houseparent I and Ms. Asuncion M. Flores, Social Welfare Officer V and head of Nayon ng Kabataan (NK).
In her acceptance speech, Ms. Asuncion M. Flores, Social Welfare Officer V and Head of NK, thanked the DSWD-NCR management for taking care of her and her family. She further narrated her humble beginnings in the agency, having started working at the age of 18 as a Welfare Aide. She credits the Department for the experiences and training given to her, as these made her who she is as a person. For Ms. Flores, working in DSWD-NCR changed her for the better. From a timid and unobtrusive lady, she became the tough yet compassionate social worker that she is now. She proudly declared that she was not tempted to find greener pastures abroad or leave her job at the DSWD. Ms. Flores then left a message to the younger generation by saying "Mahalin ninyo ang trabaho nyo. Dapat lagi kayong committed, dedicated, service first at God fearing."
On the other hand, Mr. Reynaldo V. Santos, Manpower Development Officer I (MDO I) at RSW, made his speech more candid but brisk. He began by saying "life begins at 40." He then cited an instance where someone asked him how long has he been an employee of the Department. Upon replying, the person said "nagtiyaga ka ng 40 years sa DSWD?!? bakit ka nagtiis? nakakaawa ka naman." His witty retort, on the other hand, was "hindi ako nakakaawa dahil tumagal ako sa DSWD, kayo ang nakakaawa kasi andyan palang kayo." Afterwards, he borrowed a quote from H.L.Neri entitled "Love your Work" and continued with the oration. He ended his speech by saying "Bakit ako tumagal, it's because I love my job. Kung hindi mo mahal ang trabaho mo, wala kang karapatang magtagal sa kahit anong trabaho. Kung hindi ka na masaya, maghanap ka ng iba."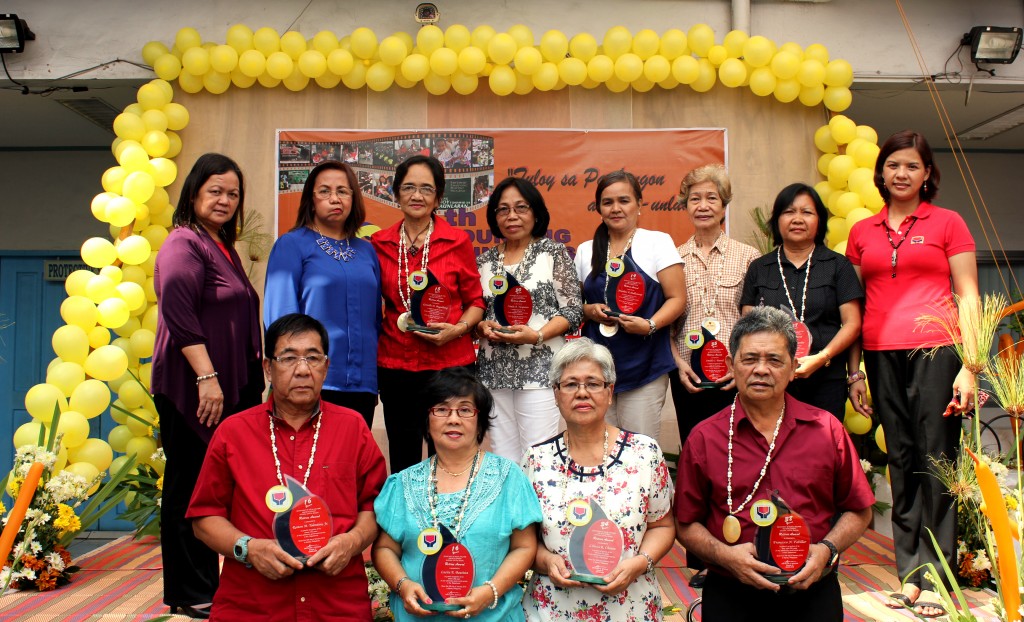 After the awarding, a program was prepared for the retirees in gratitude for their services in the field office. ###