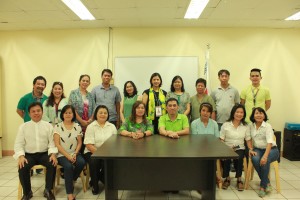 To help enhance the effectiveness of the Department and curb corruption through monitoring of DSWD core programs and projects, some 8 Civil Society Organizations (CSOs)/Social Welfare and Development Agencies (SWDAs) inked Budget Partnership Agreement (BPA) with the Department of Social Welfare and Development- National Capital Region  (DSWD-NCR) on March 21, 2016 at Sampaloc, Manila.
Under this, partner CSOs and SWDAs agreed to work closely with the DSWD-NCR to make the national budget more responsive to the country's development needs and pressing concern to alleviate poverty and improve the quality of services.
The signing of the BPA also contributes to President Aquino's thrust to strengthen democratic institutions through people empowerment, particularly in promoting the principles and practice of good governance.
Moreover, this upholds transparency and accountability in allocation and utilization of public funds in serving the poor, through monitoring of the Pantawid Pamilyang Pilipino Program, Sustainable Livelihood Program and Comprehensive Program for Street Children, Sam Bajaus and Indigenous People, among others.
The CSOs/SWDAs are:  Live for Others Movement; Center for Popular Empowerment; Share an Opportunity Philippines; Partnership for Integrated Services and Social Development (I-SERVE) Inc.; Philippine Relief and Development Services Inc.( PHILRADS); I am Redeemer and Master Evangelical Church; International Holistic Engagement for Life and Progress (I-HELP); Pastoral Elders Association for Righteous Leaders (PEARL). ###