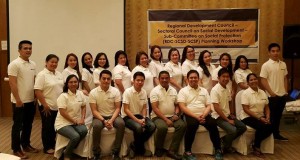 The Department of Social Welfare and Development – National Capital Region (DSWD-NCR) led the conduct of planning workshop to develop a 5-Year Regional Protection Plan for the Sub-Committee on Social Protection and to maintain its functionality as a policy making body under the Regional Development Council – Social Development Committee held on March 28-30, 2016 at Timberland Heights, San Mateo, Rizal.
"We are doing this to improve the quality of life of the poor, vulnerable, disadvantage sector of the society through better delivery of social protection programs and services." DSWD-NCR Regional Director Vincent Andrew T. Leyson said.
During the activity, the status of the Philippine Development Plan of Aquino's Administration and the result of the Millennium Development Goals were shared. There were also discussion on the Sustainable Development Goals and our commitment on achieving it.
Through this, the committee identified the gaps in the implementation of various social protection programs and services along with four components of Social Protection, threshed out issues and concerns and recommended policies as well as strategies relative to the delivery of social protection program and services in Metro Manila.
The Regional Development Council – Sub-Committee on Social Development – Sub-Committee of Social Protection in the National Capital Region (RDC-SCSD-SCSP) aims to ensure that all social protection programs, projects and activities of the national government agencies of NCR are supported by the Regional Development Council. ### (FO-NCR, Social Marketing Office)