The Gulayan sa Barangay at Barangay 174 started in May 2016. There are a total of 457 members composed of 16 parent groups involved in this endeavor. According to the members of Pantawid Pamilya Pilipino Program, their City Link conducted a general meeting to encourage them to have their own garden in their barangay. Because of the willingness and passion of every member to have their own communal garden, one of the members recommended a vacan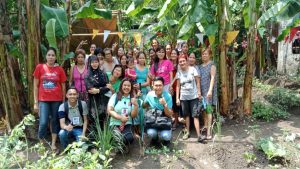 t lot in their house for them to cultivate and plant crops. The measurement of the said space is 200 square meters.
Since most of them are newbie in urban gardening, members encountered challenges at first due to insufficient knowledge and skills needed to start. Through their City Link's initiative, they were able to participate on the series of trainings conducted by the Caloocan City Department of Agriculture. Aside from the trainings, the City Government of Caloocan also gave the members enough seedlings for them to start like petchay, watercress and tomatoes. Members also contributed money to buy more seedlings to plant like sponge gourd, siling haba, siling pula, bell pepper, squash, eggplant, and okra. With these efforts and a city link who continuously encourages them, members were motivated to sustain their garden.
The Gulayan sa Barangay really benefited the Pantawid members. They use it for food consumption which promotes good health within their family especially that their produce is organically grown. Whenever they are able to sell from their produce they use the money to buy more seeds. Barangay 175 set 5, 6, and 7 help another to build the garden and make it productive. They consider it as a way for them to learn new things that could help them improve their lives. Their unity in the garden shows how driven they are to do more not just for themselves but also for their family. Urban Gardening was established very well by the Pantawid Pamilya members because of their strong desire to be the agent of change in their community.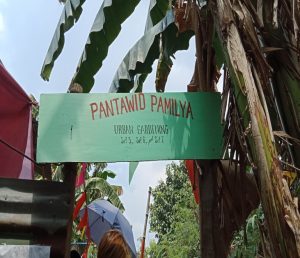 Their usual produce are tomatoes, sponge gourd, watercress, pechay, siling haba, siling pula, green bell pepper, red bell pepper, edible tips of sweet potato, squash, egg plant, onions, bitter gourd, okra, radish, lettuce, ginger, papaya, mung beans, and saluyot. There are also herbal plants and fruit crops like sambong, tanglad, oregano, serpentine, kalamansi and bayabas. Members wisely use their spaces in planting vegetables and other types of plants because they were advised by the Department of Agriculture to utilize their spaces properly so that they can sustain their garden. Having a large numbers of members is also an advantage for them in order to maximize the work force for the productivity of their garden. They are using the rice husk as an organic fertilizer. Further, there is also a system of scheduling in their garden. They have assigned person everyday to water and facilitate the garden. This helps them develop discipline and become more responsible not just in gardening but also in their personal lives in terms of time management. As a matter of fact the garden was featured by the Malacañang Press and the people were very happy about it. They felt appreciated and they were more motivated to make their produce more healthy and bountiful.
Pantawid Pamilya believes that Urban Gardening helped them in so many aspects; aside from their cash grants they also began to expose themselves in gardening. It helped them to improve themselves in terms of having time management in caring for their family, doing house chores and their responsibilities in the garden as well. As of now Barangay 174 set 5, 6, and 7 members of Pantawid Pamilya Pilipino members continue to produce their own seedlings so they can plant more. They are also planning to look for other vacant spaces that they can utilize not only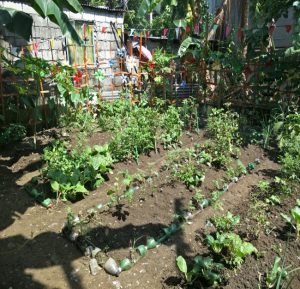 for their own benefit but also for their family and the whole community. In addition, Pantawid Pamilya members involved in Urban Gardening was able to create different strategies in sustaining their garden. According to one of the parent leaders the secret in their Gulayan sa Barangay is the cooperation among them and their love in what they are doing. The garden has also become a venue for the group to bond and just be together, not only during their Family Development Sessions.
This story of the Pantawid Pamilya Pilipino Program beneficiaries shows that every member can improve their lives and not just depend on the cash grants. This also shows that everyone has the potential to learn new things and develop their skills. Urban Gardening has a good effect within the members and is a great way for every Pantawid Pamilya members to prove that they can be agents of change in their own family and community as well. This is a call for every Filipino people not only for the members that if we believed that we can make a change, it can happen. This people continue to become an inspiration to their co-members in Pantawid who continues to fight poverty and the courage to change their lives not only for themselves but for the benefit of their family and their community.