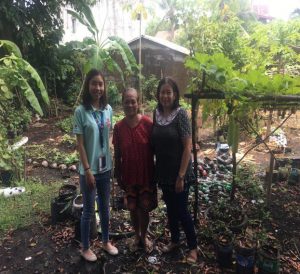 Nancy Alberca, 51 years old, a member of Pantawid Pamilyang Pilipino Program since 2013 is one of the active parent leaders at Barangay Pasong Putik, Quezon City. She was elected as a president of Kababaihan
Association in the same Barangay. She was married and blessed to have (eight) 8 children, (five) 5 of those have their own families and three of them are still studying in grades 4, 5 and 8 level. They are all doing their best to achieve good grades. Nancy and her family originally came from Bicol, they moved to Manila with the belief that opportunities are waiting for them and that they can have a better life. They live in the house that was given to her by her relative. Nancy was a sampaguita vendor before she became a Pantawid Pamilya member.
She is the breadwinner of the family because her husband is suffering from tuberculosis. The health center of the barangay provides free medicines for her husband's maintenance, but it is not regular and continues. Her husband's medicine costs Php200 a day. In this case, Nancy should work very hard to provide and save at least Php200 for the medicines of her husband. She was blessed to receive support from their children, but it is not enough for their expenses and other needs.
Nancy is the caretaker of the vacant lot near their house. She asked permission to the landowner if she could use the area to transform it into a garden. The landowner agreed to Nancy's idea and allowed her to use the 300 square meters land. "Malaking tulong ang garden na ito sa amin dahil bukod sa napagkukunan namin ito ng pagkain nakakadagdag din ito sa pang araw-araw naming kita," she shares.
It was in 2013 when Nancy with the help of her supportive family started to garden. Over the years, they were able to develop and maintain the area into a productive and profitable garden with plenty of herbal plants and varieties of fruits and vegetables; such as okra, tomatoes, eggplants, horseradish, bitter melon, luffa, bottle gourd, and Malabar spinach among others. It also serves as an area for relaxation and family bonding. Gardening is a therapeutic activity that helps Aling Nancy to destress and unwind.
When she was in Bicol she already had skills and knowledge in gardening and later on apply it in urban gardening in Barangay Pasong Putik. By the help of the City Link of Operations Office 4 of District 5 Ms. Mildred Campued, Nancy was given an opportunity to attend training regarding to Urban gardening sponsored by the SM Foundation. She had a 22 weeks of training and it helped her gain more knowledge and learn more skills in gardening. She was also helped by the local government unit and the Department of Environment and Natural Resource (DENR) to sustain her garden by providing free training, tools, seeds and seedlings.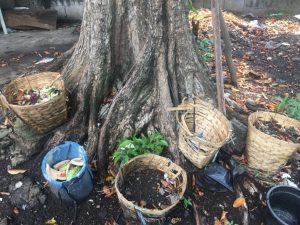 Nancy shared how the garden helps her family's daily needs, it served as their food consumption, medical needs through taking herbal plants, and most of the time for marketing. It makes them become resourceful by using their old plastic bottles into pots and used for her vertical garden. Nancy and her family also become more eco-friendly by keeping and converting waste materials into an organic fertilizer. She also experienced some challenges in gardening like pest destroying her plants, maintaining the cleanliness of the garden, and having unhealthy plants due of direct sunlight and heavy rain. Some of her neighbors also stole her vegetables from the garden that is reason for her to fence the garden. She is also convincing her fellow Pantawid Pamilya members to have their own garden and she is willing to share her space in the garden with other Pantawid Pamilya members, in fact she is trying to convince them in the meeting particularly during FDS and parent group meetings.
Nancy sell her harvest crops and fruits and she earn 100 to 300 pesos a day. Her neighbors personally goes to her home to buy her produce so she do not have to go around to sell it. She use her income for the school expenses of her three children and other expenses for their basic needs. She is also using her herbal plants for her husband's remedy. Aside from gardening, she is also selling doormat, "palaspas" and peanuts for her additional source of income.
Last 2007 Nancy was nominated as one of the contestants in their barangay for the  Malunggay Festival Contest. It is a contest organized by the DSWD Operations Office 4 to all barangays under district five of Quezon City and she won as 2nd placer. On the same year, she also joined the Urban Farming Contest that was organized by the local government unit. It is a gardening project, which is part of the cash-based alternative support. She won as the second placer and received Php7,000 cash price. She spent the money in buying additional new seeds and seedling in the market.
When I asked her what is her ambition in life, she said. "I would like to fulfill my dream of seeing my children finish their education and I believe that my garden will help me fulfill that dream." She ended her story and hoping to share her skills in gardening with her fellow Pantawid Pamilya members that are willing to spend time and resources to go into organic gardening not only to offer healthy vegetables but also to showcase that we can do farming even in urban areas.