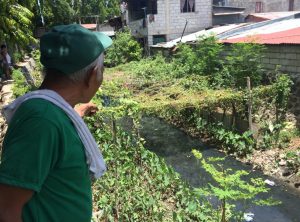 Who in the world would think that building a garden in a highly urbanized place like Makati is possible? Tatay Dionisio Morales, a seventy-five-year-old solo parent who has a degree in Agriculture and a member of Pantawid Pamilyang Pilipino Program believed that the benefits of city-based agriculture go far beyond nutrition.
Residing near a creek located at Barangay Southside, Makati City that hosts several historical tourist sites like Philippine Army Museum and American Cemetery, Tatay Dionisio proved that there are no boundaries in urban gardening
Going to Tatay Dionisio's garden is a challenge because you have to literally climb a fence right beside an estuary. However, once you see it you will be amazed by how passionate he is to raise fruits and vegetables of different kinds­­— gabi, ampalaya, malunggay, saging, patola, kamatis, talbos ng kamote, talong, sili, kangkong, sigarilyas, okra, sitaw, kamoteng kahoy, alugbati, pechay and saluyot.  "Hindi mo aakalaing nasa Makati ka," shared by one of the visitors.
He is one of the Pantawid members who had undergone Kabalikat sa Kabuhayan (KSK) training by SM Foundation. The said training was organized by a church who also provided participants with a lot where they can temporarily use to plant. However, after a few months, they were informed that they need to vacate the area since it will be occupied soon. So Mang Dionisio had to think of other ways on how he will continue to grow his own plants.
"Habang pauwi ako noon sa bahay nakakita ako ng gabi. Doon ako nakaisip nang paraan kung paano ko ipagpapatuloy ang pagtatanim," he narrates. He managed to borrow a knife and a sock of rice. He then took ten (10) pieces of gabi and brought to his house. He believes that there is nothing to lose if he will try to grow this plant. When he arrived home, he immediately started to cultivate the side of the estero. He removed the unwanted plants and throw out all the trash he collected. After the cleaning, he started planting gabi.
After how many weeks of nurturing the plant, he noticed that the gabi leaves are already growing. He doubled his effort to maintain his mini garden. He thought that he can earn money by growing gabi and he was correct after all. He is now harvesting 2 socks of gabi leaves every harvest time. He asked help from his children to sell this leaves in public market. After spending a week in the public market, Tatay Dionisio was disheartened because no one is giving attention to his crops. He had no choice but to bargain it, instead of selling it for 200 pesos he sold it for 150 pesos.
Tatay Dionisio felt loss because of bargaining his crops. But he did not give up; instead it served as a lesson and motivation for him to continue his gardening activities. He is a member of Dating Daan, a religious radio and television program in the Philippines produced by the Members of the Church of God International. He grabbed the opportunity to promote and sell his produce to his church companions.
He decided to sell it for twenty pesos per bundle. Dionisio felt glad because of the positive response from the consumers. There is also a particular eatery where he supplies gabi leaves.  His income serves as his means to purchase other seeds that can be added to his garden. As a way of giving back, he also shares some of his harvested crops to his neighbors.
Tatay Dionisio finds gardening helpful since it provides him with a source of income and a venue to apply what he learned from his Agriculture degree. He also expressed his sentiments during the beginning, "Hindi madaling magtanim kapag hindi mapag mahal sa kapaligiran ang mga nakatira sa paligid mo."  But it did not stop Tatay Dionisio to continue his passion. He believes that nurturing the environment can help reduce the pollution and make the surrounding a better place to live in.