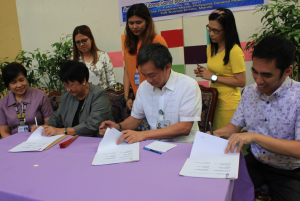 Started on March 1, 2017 onwards, qualified indigent patients at Philippine General Hospital (PGH) may now avail the medicine assistance under the Libreng Gamot para sa Masa (Lingap sa Masa) project being implemented by Department of Social Welfare and Development – National Capital Region (DSWD-NCR).
Lingap sa Masa is among the initiated projects under the Office of the President aiming to provide free medicines for either in or out patients, who can no longer afford to buy such due to crisis situations.
A Memorandum of Agreement (MOA) between DSWD and PGH was signed on February 28, 2017 wherein the roles of both parties were stipulated in order to smoothly implement the medicine program for indigent citizens.
Stationed at the office of PGH's medical social services, a social worker and an administrative assistant from DSWD-NCR are facilitating the assessment, validation and recommendation for provision of assistance to qualified patients of the hospital.
Based on the signed MOA, a guarantee letter addressed to PGH management will be issued by DSWD-NCR once a qualified indigent client has been assessed by the Medical Social Services team upon submission of the following valid documents:  doctor's prescription with date and name of patient signed by attending physician with license number indicated or as prescribed by the Health team and duly signed by the resident physician and approved by their senior officers (indicating also all license number of attending physicians); Proof of Indigency, such as but not limited to Barangay Certificate of Residency/Indigency or certification of Indigency/Classification Card issued by the UP-PGH Medical Social Service; and valid Identification Card (ID)which shall be the basis for the provision of medicines available at the hospital's pharmacy.
Intended beneficiaries of the program are the families/individuals who are indigent, vulnerable, disadvantaged or those in the informal sector and poor based on the DSWD Listahanan database, or government employees and Contract of Service workers needing such assistance, and those in crisis situation based on the assessment of the Social Workers.
"This program is another manifestation of the Department's mantra on 'Maagap at Mapagkalingang Serbisyo' wherein hospital patients can now avail the free medicines conveniently at PGH where they are having their regular check-ups and treatment for any medical conditions," said by DSWD-NCR Regional Director Vincent Andrew T. Leyson.
Meanwhile, whenever the medicines needed by the patients are not available at the PGH pharmacy, guarantee letter will be issued for the client's availment of medicines which may be available within the drugstores outside PGH with ongoing MOA with DSWD.###