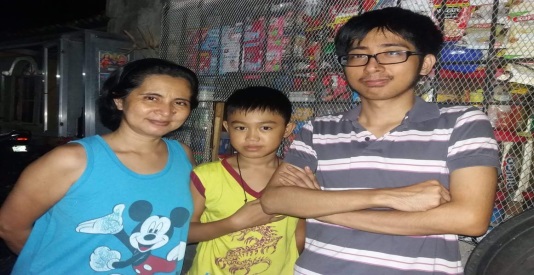 "A hero is an ordinary individual who finds the strength to persevere and endure in spite of overwhelming obstacles."- Christopher Reeve

We hear stories of heroes and how they influenced or changed history, but we don't read in history pages the characteristic that made them heroes. The story of Eleanor Hermosura Tee, or Ate Elen as friends and neighbours call our members call her, tells the tale of someone who is the personification of selflessness – a trait that truly defines a hero.
Elen is from Solis Street in Tondo, Manila. She is the barangay-appointed Treasurer of their area and is also a small retail store owner. She is blessed with two sons: Emmanuel Glynn, 25 years old, and Manuel, 13 years old. Like any other family, Elen highly values her relationship with her children. She works hard every day to provide them with a better quality of life.
As a parent, Elen takes pride in raising both her children alone and has taken on different roles to meet their needs. Unfortunately, Elen's marriage ended when she realized that living with her former partner did not help make their lives any easier. The death of their youngest child served as a 'wake-up call' from the never-ending acts of bigamy committed by her former partner. It was during this tragic event that she realized there is no way for her to be a mother and a partner at the same time if she wants a better life for her children. She decided to become the hero her children could look up to.
After her marriage fell apart, Elen felt that she was back to zero. However, it was also this time that her opportunities to become an inspiration to others began opening up. Her path to becoming a selfless leader started in 2012 when Elen was elected as the Parent Leader of the community.
She her described role as a parent leader as being a model of strength and compassion. Despite the challenges of poverty and economic limitations, it was important for Elen to sustain the morale in her community that they will survive life's problems. As the Parent Leader, our hero embraced the responsibilities that came with the Pantawid Pamilyang Pilipino Program.
Elen was known as a formidable parent leader in their community. She was able to sustain the high level of participation of members during assemblies and puts priority in validation and keeping members compliant with the conditions of the Pantawid Pamilyang Pilipino Program.
But becoming a Parent Leader was not a walk in the park. Elen describes the role as a parent leader to be full of challenges that transcends from personal and domestic life to relationship with members and the community. It was important for our protagonist to set an example to members on how to cope with everyday survival. Elen's family story, while full of hardships and not-so-perfect, allowed our hero to relate to the experiences of other members and helped her to understand their pain and struggles.
Elen's passion in making the program successful is attributed her personal style of leadership that is rooted to the way of life of her co-members. Whenever there are conflicts within the community, especially if it involves money, our hero resolves it by making other members understand the process of a mature and responsible conversation. Elen also takes time to make members understand that the cash grants are intended for the welfare and the needs of the children. After every training or meeting, Ate Elen reinforces the concepts and processes to every member, increasing their sense of accountability and responsibility. She believes that it is always important to do what is right and to always do good.
Of course, Elen's story is more relatable and personal when there are people who attempt to discredit her capabilities. As the barangay-appointed Treasurer, people used to think Elen will mishandle the funds and will be tempted to commit acts of corruption. But Elen's strong sense of public service made it possible to rise above criticisms and continue pursuing selfless acts, proving the allegations wrong. She emphasized that "success is not always about money". It is this principle that gave our hero the reputation as a responsible and reliable member of the community and parent leader.
For Elen, it is not about how we make ourselves successful that count as heroism. It is how we open up ourselves to serve others. It is this story of selflessness that makes Elen, not only as a hero of their community but a living proof that heroism lives among the many people of the Pantawid Pamilya Program. This story is our story when we build communities and make relationships stronger. This story, worthy of being celebrated, is not measured by wealth, but by the number of lives that our hero has changed.